Details

Published on Tuesday, 12 September 2017 19:48
INTRODUCTION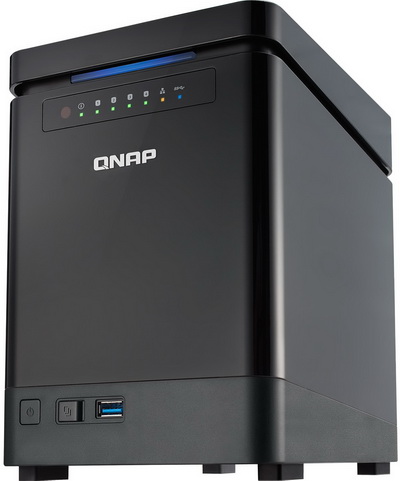 This may surprise some of you but according to a some independent studies/projections (conducted since 2014) by 2020 almost 80% of all households in the US and EU will own at least one NAS device. In reality this is not something unexpected especially since the role of NAS devices has gradually expanded to much more than just centralized network storage. As i type these lines consumers can use NAS devices as web servers (to host their very own websites), email servers (which not only send and receive but also filter incoming messages), download servers (used to download data both directly via HTTP/FTP and/or via torrent), media servers (can share/seed media to computers and smartphones), network video recorders (IP camera compatibility grows longer each day) and much more. Still what we don't see much in the industry are compact yet high-end NAS models which people can actually use even in their very own bedrooms without having to worry about waking them up in the middle of the night. QNAP has released some such solutions in the past and since they did become quite successful it was only natural for them to revamp some of them and release them again. Today's review is about one such model and more specifically the TS-453Bmini-8G.

QNAP Systems, Inc., as its brand promise "Quality Network Appliance Provider", aims to deliver comprehensive offerings of cutting edge network attached storage (NAS) and network video recorder (NVR) solutions featured with ease-of-use, robust operation, large storage capacity, and trustworthy reliability. QNAP integrates technologies and designs to bring forth quality products that effectively improve business efficiency on file sharing, virtualization applications, storage management and surveillance in the business environments, as well as enrich entertainment life for home users with the offering of a fun multimedia center experience. Headquartered in Taipei, QNAP delivers its solutions to the global market with nonstop innovation. More information is at www.qnap.com.

Unlike the SilentNAS series again by QNAP which featured good hardware specifications but nothing exciting in order to support their passive cooling system the TS-453Mini was actually amongst the most powerful NAS servers to ever reach our lab sporting a quad-core Intel Celeron J1900 CPU running at 2GHz (64Bit, 2MB L2 cache, 22nm) with its Intel® HD Graphics Mesa DRI Bay Trail running at 688MHz (OpenGL 3.0 Mesa 10.2.2) and up to 8GB DDR3L RAM clocked at 1333MHz. Still due to high demand QNAP took it back to the drawing board and this time over equipped it with the latest quad-core Intel Celeron J3455 CPU clocked at 1.5GHz (2.3GHz burst, 64Bit, 2MB L2 Cache, 14nm) with its 9th generation Intel HD Graphics 500 (250Mhz base frequency with 750Mhz burst) and up to 8GB DDR3L RAM clocked at 1600MHz. The rest pretty much remain the same so just like the TS-453Mini the new TS-453BMini also has room for up to four 3.5/2.5" SATA III drives, 2 Gigabit RJ45 Ethernet ports, 3 USB 3.0 ports, 2 USB 2.0 ports, HDMI v1.4a port (4k 3840x2160 max) and a build-in IR sensor which can be used with their RM-IR002 remote control (included in the bundle). In terms of software features the TS-453BMini supports everything we've seen so far with most NAS models by QNAP so nothing really to worry here when it comes to available usages.
SPECIFICATIONS AND FEATURES

PACKAGING AND CONTENTS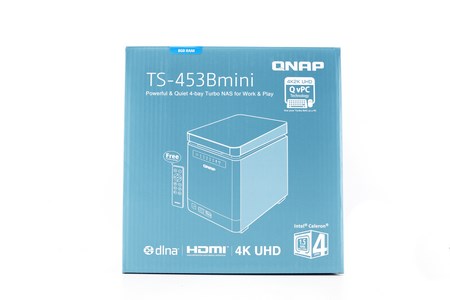 Unlike their other NAS models QNAP ships the TS-453BMini inside a blue cardboard box which has a product drawing at the front right next to 3 other drawings of a screen, keyboard and a mouse (used to showcase the QvPC technology) and of course its 4k UHD support.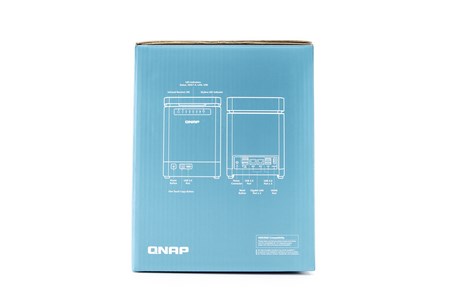 Two product drawings are placed on the left side and are used to showcase the various activity LEDs and ports on the unit.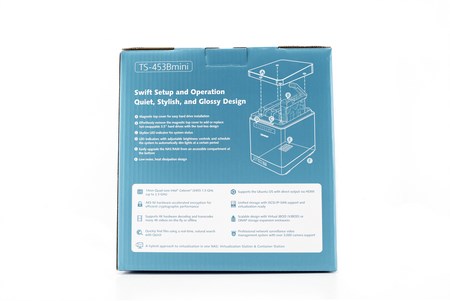 At the rear we find yet another drawing used to showcase the drive trays and memory module area and listed right beneath are some of the product features and specifications.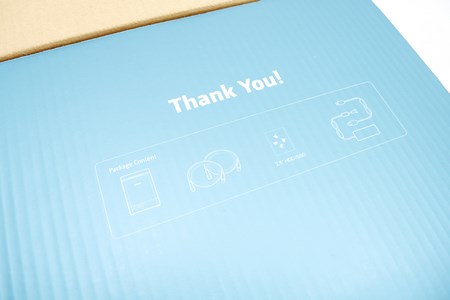 The bundle contents and a Thank You note are the first things you'll see when you open the box.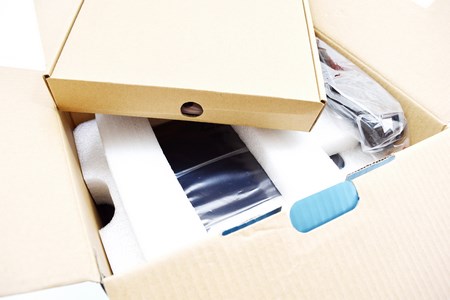 While the NAS is placed inside a plastic bag and between two thick foam spacers the rest of the bundle sits inside a small cardboard box.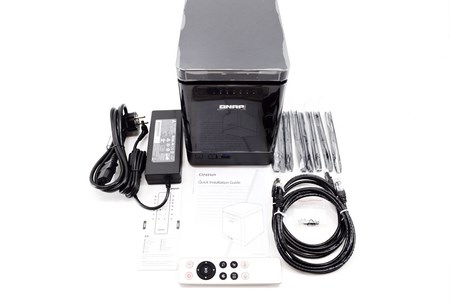 Along with the TS-453BMini you are also getting 8 drive mounting rails, its power adapter and cord, two RJ45 Ethernet cables, IR remote control, bag with screws for 2.5" drive installation and the quick installation guide.
THE TS-453BMINI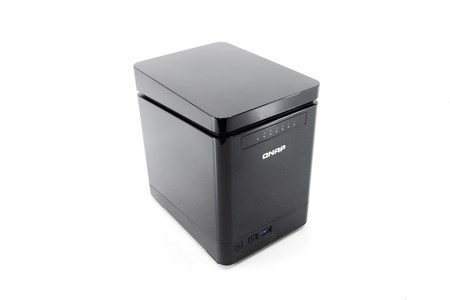 Just like its predecessor the glossy housing of the TS-453Bmini weighs 2kg and measures just 200mm in height, 210mm in depth and 151mm in width.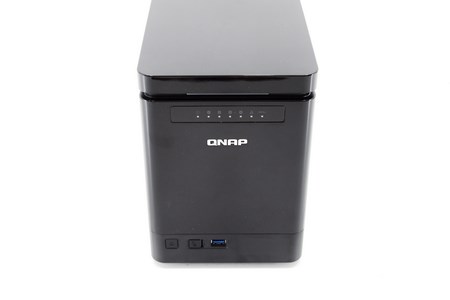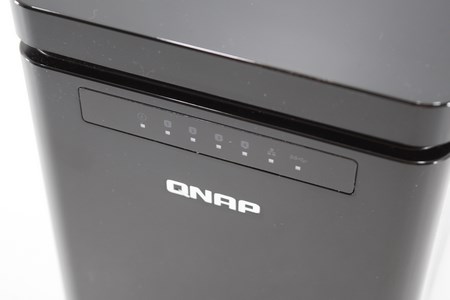 At the top end of the fascia we find the IR sensor, power LED, drive activity LEDs, LAN activity LED, USB activity LED and the Skyline blue LED indicator.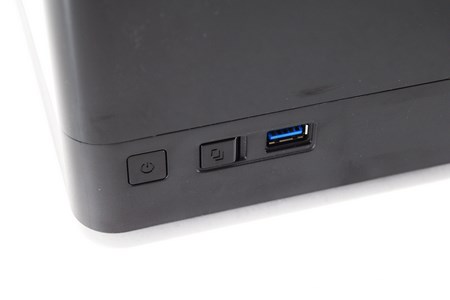 The power on/off switch, one-touch backup button and a USB 3.0 port are placed on the lower end of the fascia.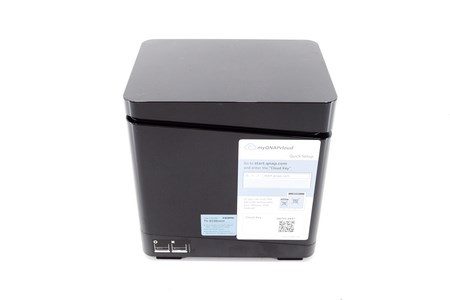 You can quickly start the installation of the unit just by scanning the 2D barcode found on the left side of the enclosure as seen above.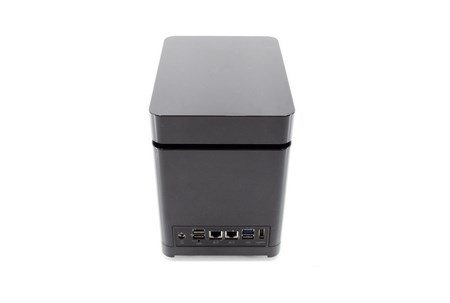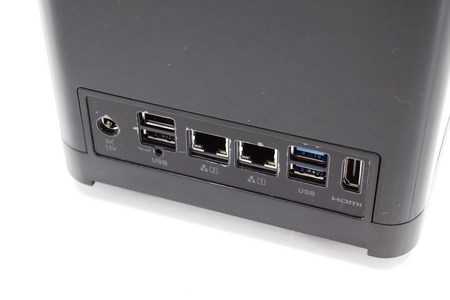 The rest is all gathered at the rear of the enclosure so here we find the DC in port, two USB 3.0 ports, reset button, two RJ45 LAN ports, two USB 3.0 ports and the HDMI v1.4a port.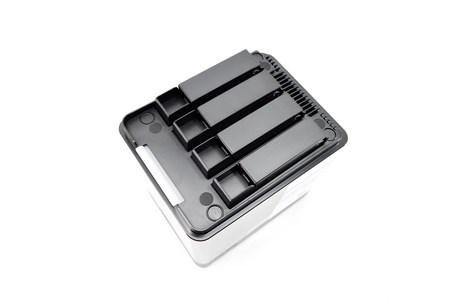 Mounting the drives is very easy since the top cover is kept in place via 4 small magnets.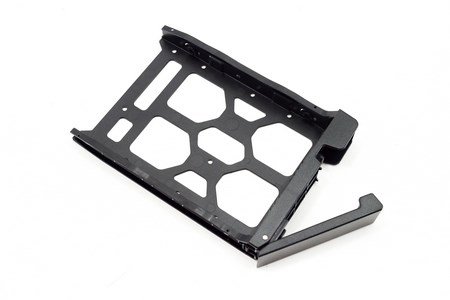 Quality wise these may not be made out of aluminum like we've seen in the past in other models by QNAP but they are very sturdy.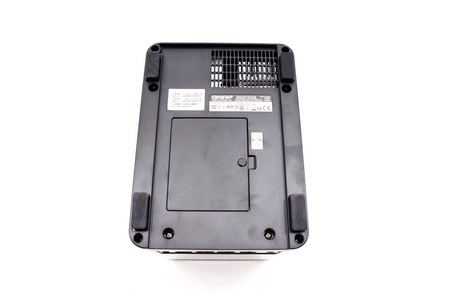 Turning the unit over we see 4 large rubber feet.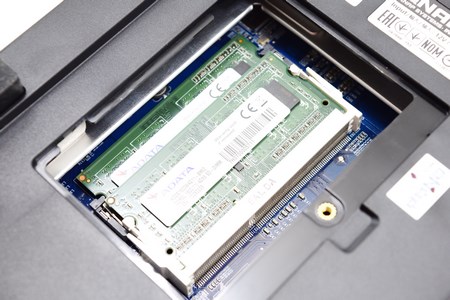 If you get the 4GB version you can add more memory through this compartment (our sample came with two 4GB modules - that's also the maximun supported).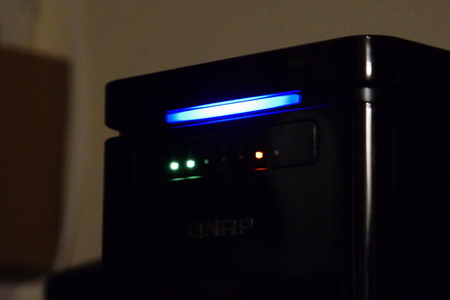 The Skyline power LED is once again a nice touch.
SETUP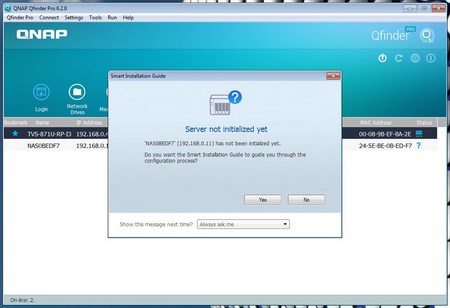 There are several ways you can detect and setup the NAS but using the latest version of Qfinder Pro is the easiest one and this is what we used here as well.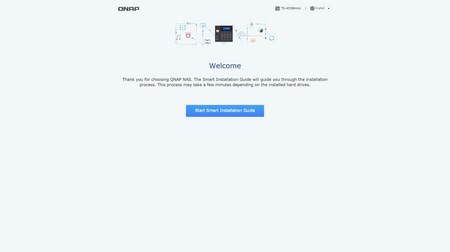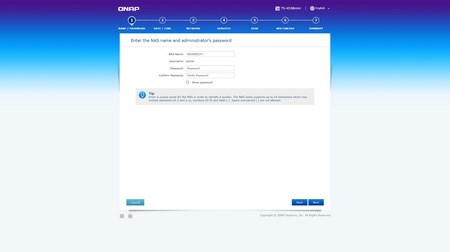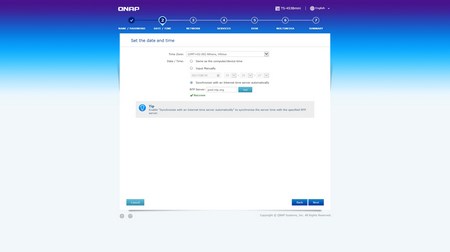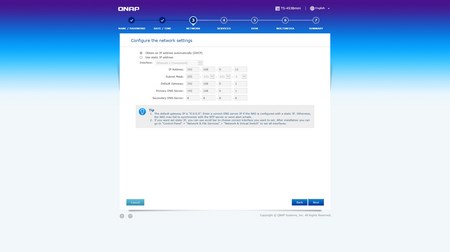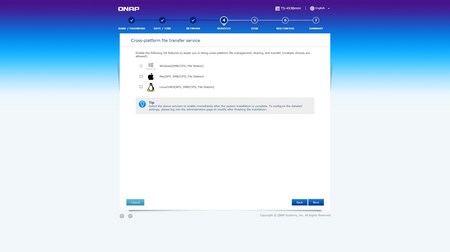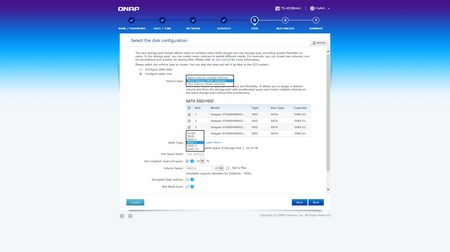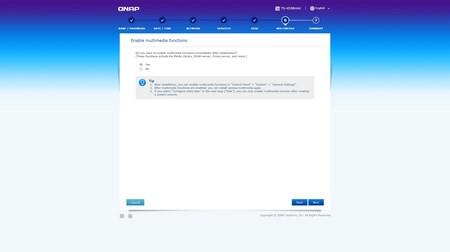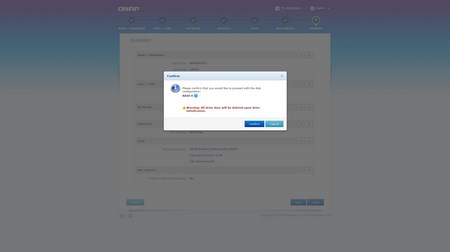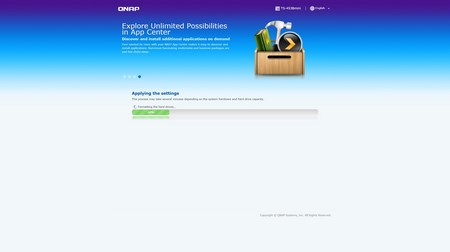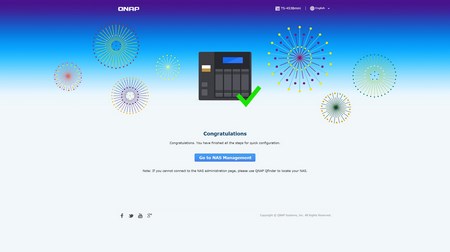 Once the setup procedure starts you will need to enter a new name and password for the NAS, set the date and time, adjust the network settings, select whether or not the NAS will be connected to Linux and MAC systems (aside Windows), configure the installed drives and finally you will be asked whether or not to enable multimedia functions.
QTS 4.3.3 PART 1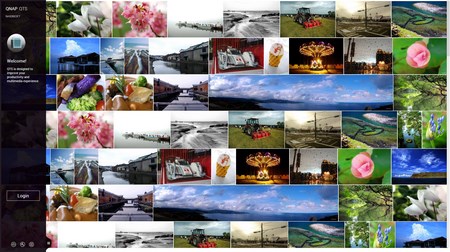 Just like with previous QTS versions the login screen is filled with colorful pictures.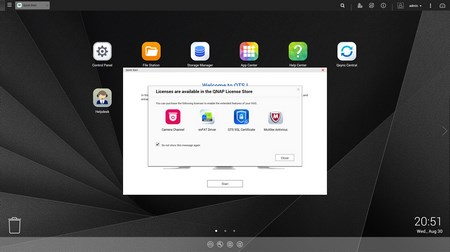 This time over however we got a popup pointing at various licenses available (makes it easier for people to access that feature).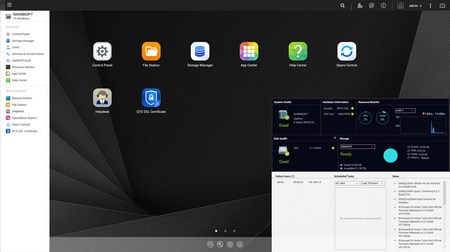 Another tiny difference is that the very detailed resource monitor can now be launched from the top right corner (the drop down start-like menu can still be accessed from the top left corner).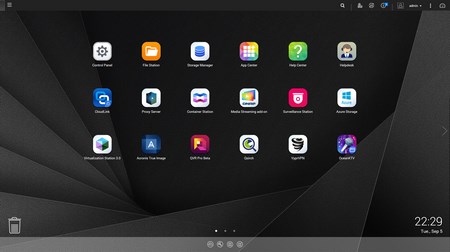 The main "desktop" screen is slightly different than previous QTS versions (for this review we installed and used quite a few apps as you can see from the above picture).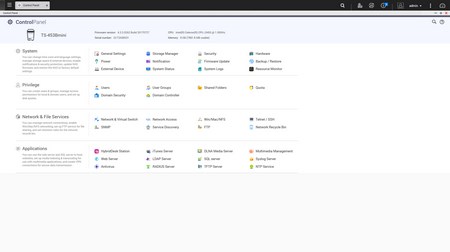 Everything you need in terms of available settings is present in the slightly revamped control panel page.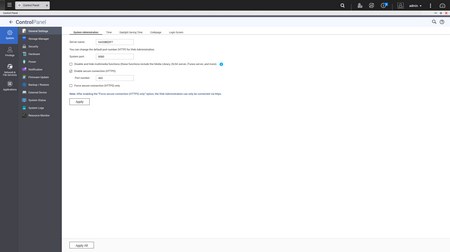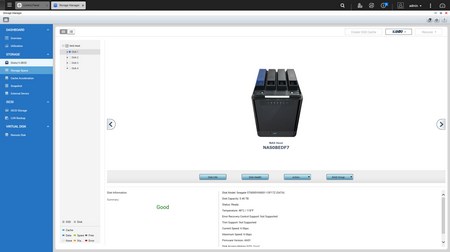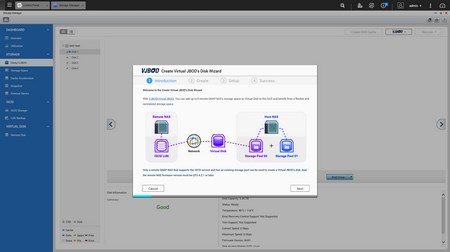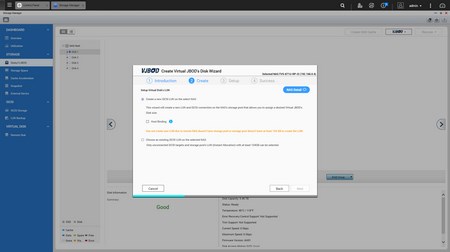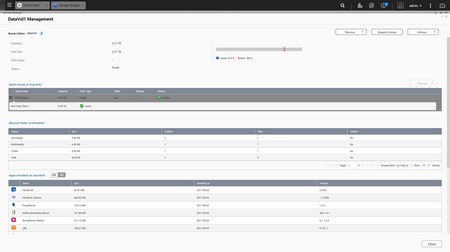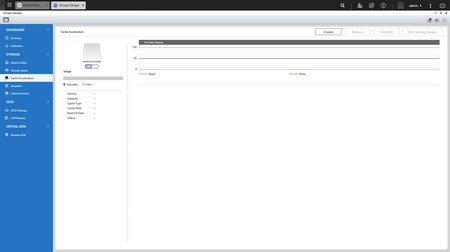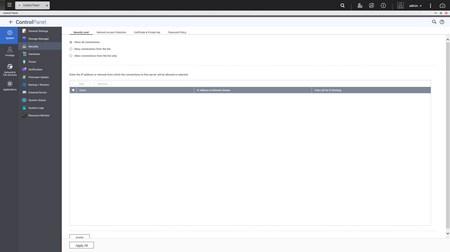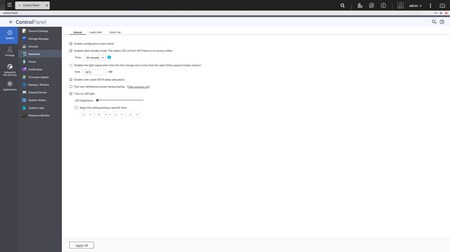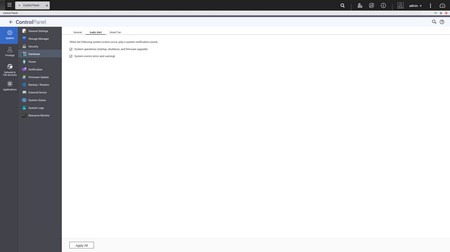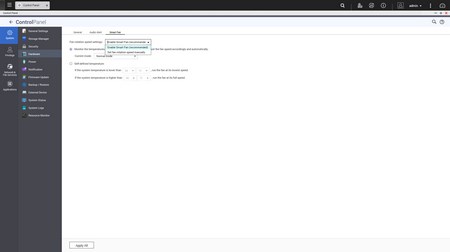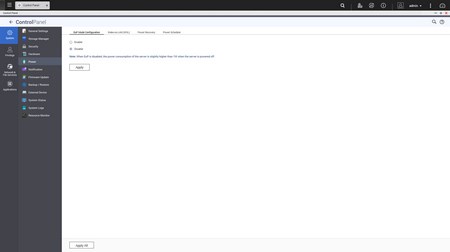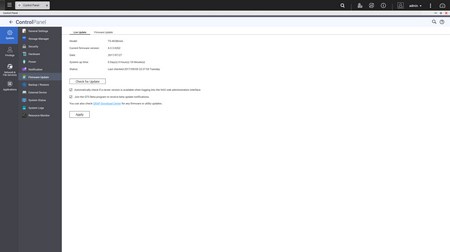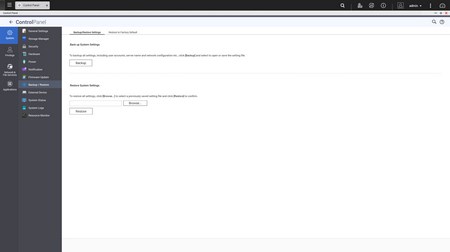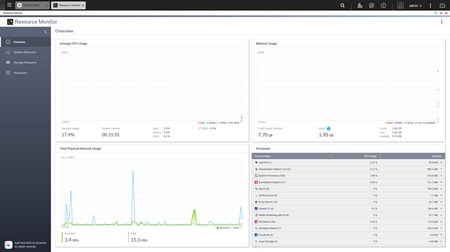 Via the System Settings menu you can set the name for the server, adjust time, set a password, change the codepage, adjust the login screen, specify your location, adjust the network IP, play around with power options, set notifications, check the state of the installed drives, create RAID and Virtual drives (VJBOD can be used to add up to 8 remote NAS storages), setup cache acceleration (via SSD), enable/disable security settings, configure the speed of the fan, audio alerts and LED intensity, backup and restore NAS data, configure external devices, check hardware information, setup backup options, access external device settings, access the detailed resource monitor, check logs and needless to say perform firmware updates.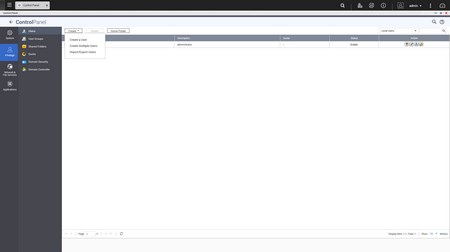 The Privilege Settings tab is very basic and allows you to create new users, assign those users to groups, setup shared folders, set specific quotas for each user and configure domain security.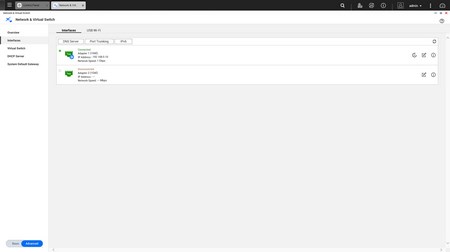 From within the Network Services menu you will find everything network-related including Virtual Switch settings, DHCP server settings, Wireless USB settings and more.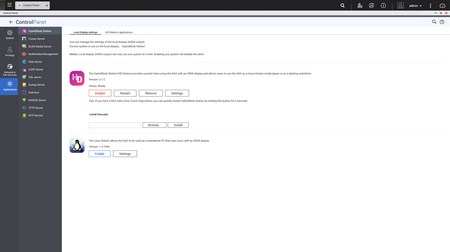 From the applications tab you can access most of the essential apps of the NAS including the HybridDesk Station which can be used with the HDMI output.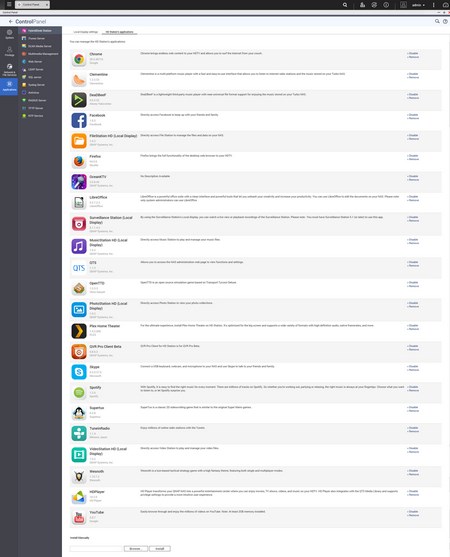 The HybridDesk Station currently includes a total of 23 apps some of which we'll be taking a look at later on.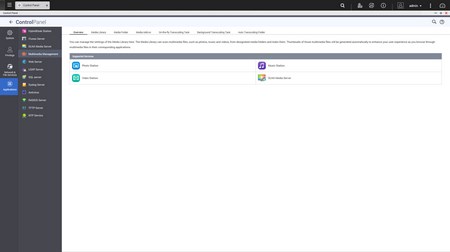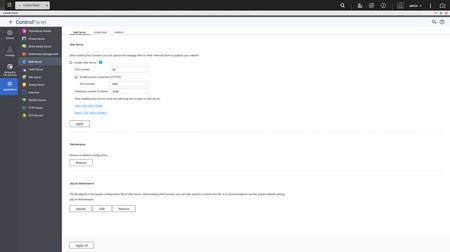 From the applications tab you can also enable the photo, video, music, DLNA, web server and many other stations (apps).
QTS 4.3.3 PART 2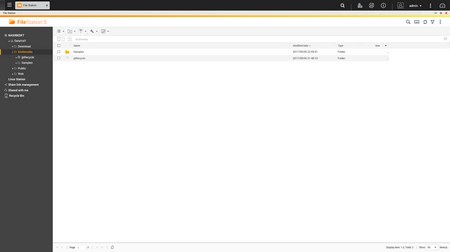 Via the File Station you can transfer files to and from the NAS and although also revamped it still looks quite a bit like the Windows explorer.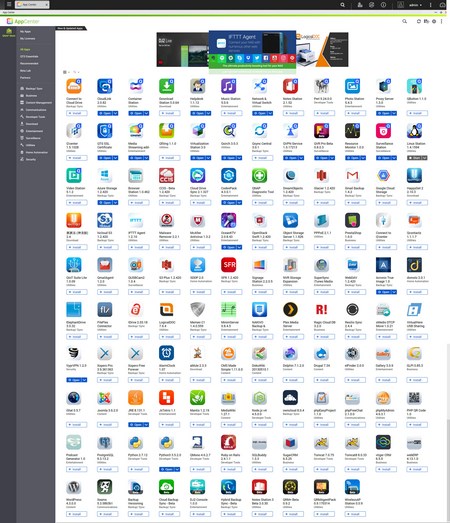 Worth pointing out is that currently QNAP offers a total of 118 free apps.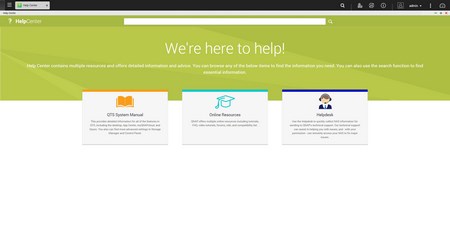 Via the help center app you can access the manual, online documentation and of course the helpdesk.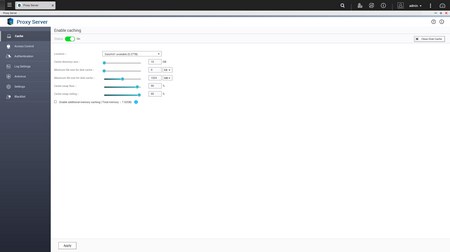 You can also run your very own proxy server by using the available app as seen above.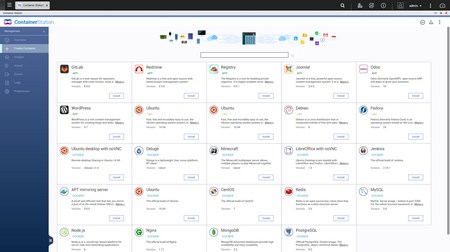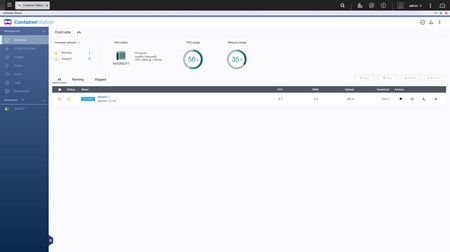 Via the container station allows you to operate multiple isolated Linux systems on a QNAP NAS (along with several other apps).
As clearly stated by its name via the Media Streaming Add-On you can stream media to different devices using DLNA, Airplay, Chromecast and HDMI.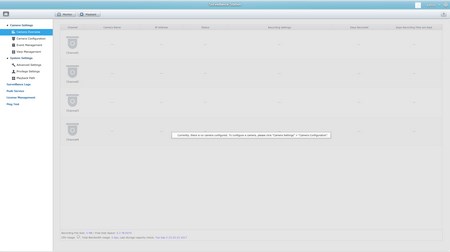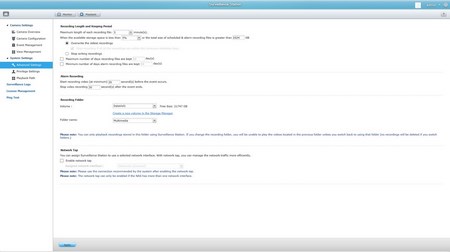 The Surveillance Station gives you 4 empty spots to configure IP cameras (the rest remain the same as with previous models).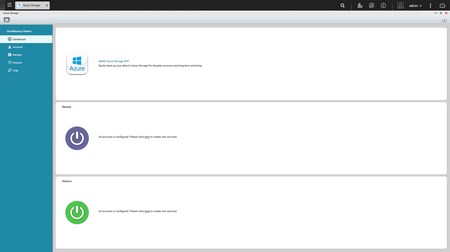 Much like with previous QTS versions you can use the Azure Storage app to backup data from your local network or NAS directly to your Azure cloud account.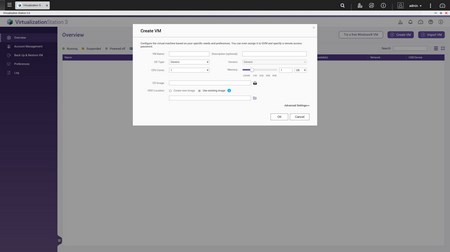 Since the original TS-453mini was quite slow when running Virtualization Station I was tempted to run the same configuration on the TS-453Bmini and I have to say that although certainly not as "smooth" as a regular desktop system it was quite faster.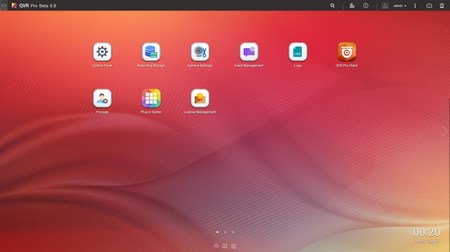 The QVR Beta 0.8 is perhaps the app that really stands out this time over since it allows for remote viewing of attached IP cameras. Its beta can be used for free until a certain date after which we don't really know the exact plans QNAP has for it.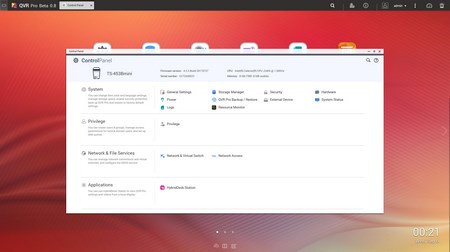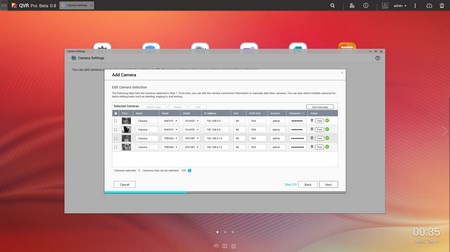 I was surprised to see that the QVR beta almost runs like an isolated QTS OS (has its very own control panel, dashboard and more). We were also able to access all 4 of our IP cameras (2xLinksys and 2xTRENDnet) manually as you can see from the above picture.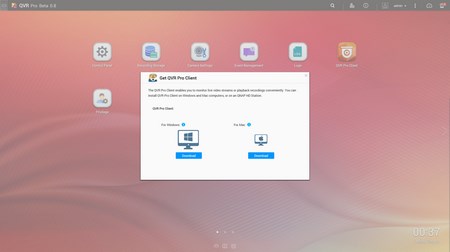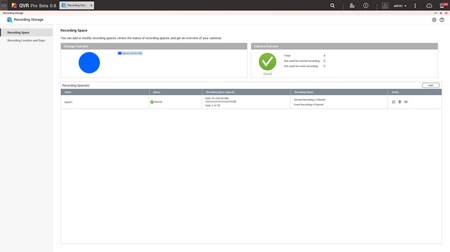 You can also install the QVR Pro Windows and MAC software to access the camera feeds easier and check on available recording space from the Recording Storage tab.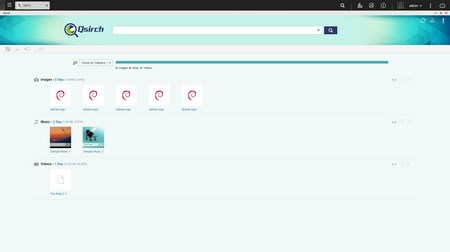 Qsirch is a new application which allows the end user to search for specific files inside the NAS at incredible speeds. It may not come in handy much for home use but for office use it could prove to be a valuable addition.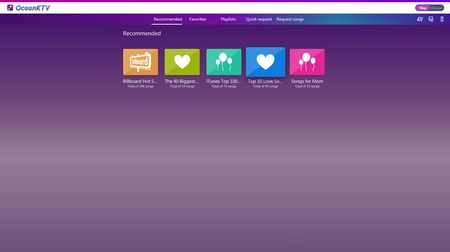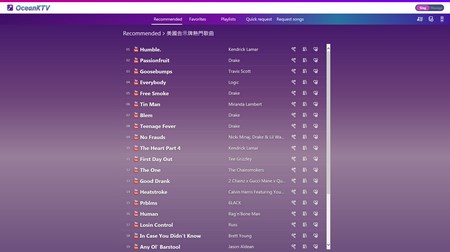 The OceanKTV is a Karaoke machine app which has come a long way since the first version we tested last year and even comes with almost 400 recommended songs which you can access via YouTube (requires connection to the internet).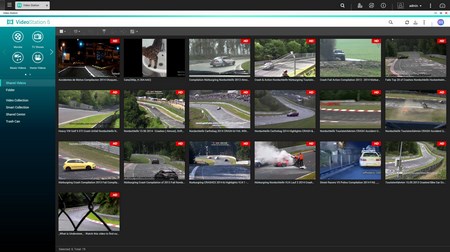 The latest version of the Video Station makes it very easy to playback video files onto your desktop PC or HDMI connected TV (not as practical as KODI but it's the only choice QNAP has right now).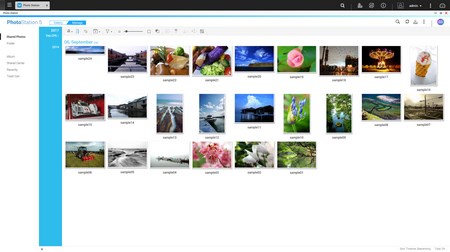 Via the new photo station you can see and share all your pictures with other PC and mobile devices.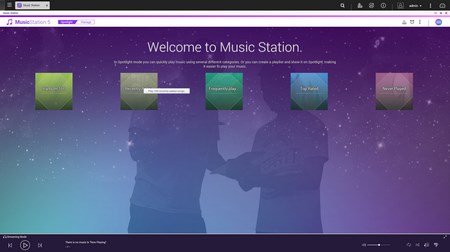 With the Music Station you can stream and playback your entire music collection without switching to an external app.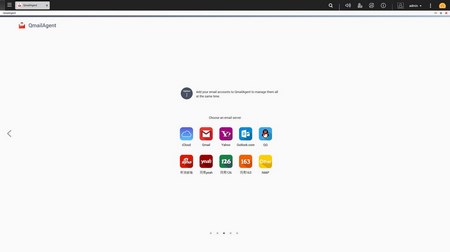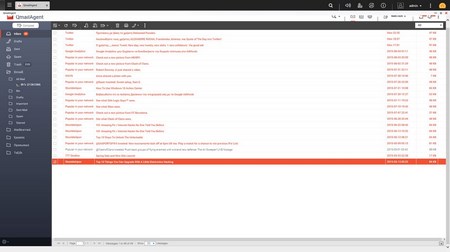 Thanks to the new QmailAgent app by QNAP you can now send, receive and backup all your emails from a large number of email clients by using a single program. The QmailAgent app is not only extremely easy to use and obviously very convenient but it also supports email encryption.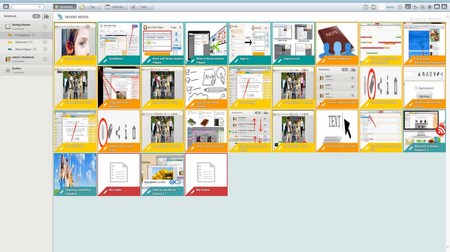 The notes app may not come in handy to everyone out there but it can be really useful for people who need to keep track of many things.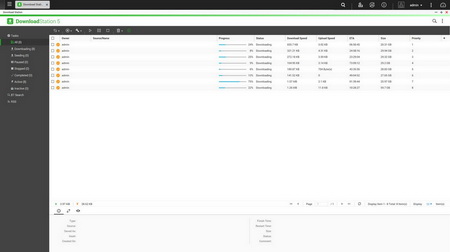 If you need to download files via torrent or HTTP/FTP you can always use the very handy Download Station as seen above (supports outgoing encryption for Torrent sharing).
ANDROID / IOS APPS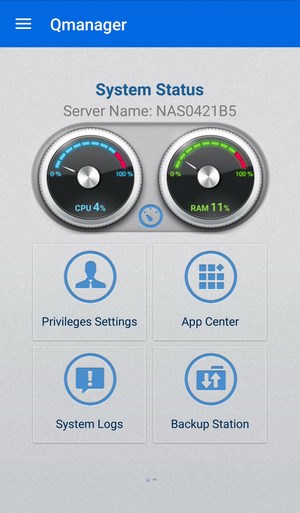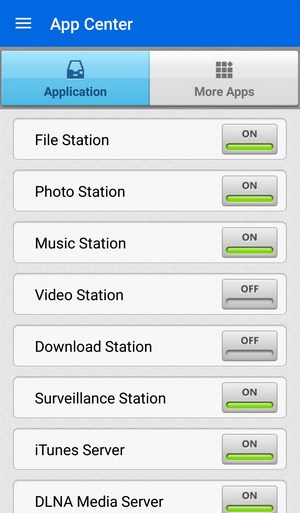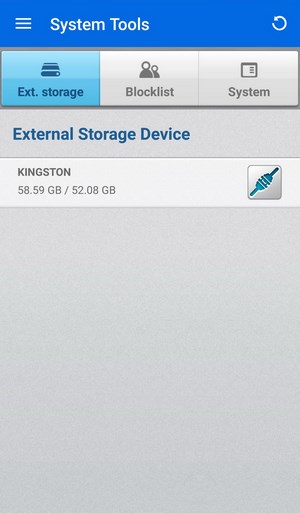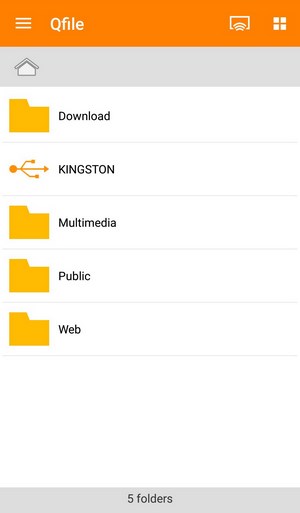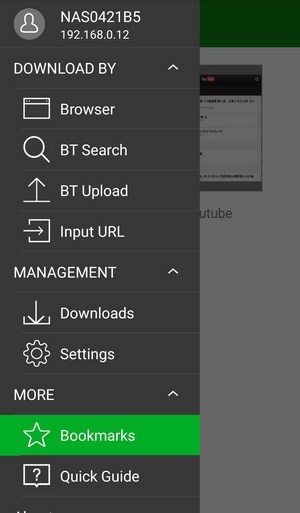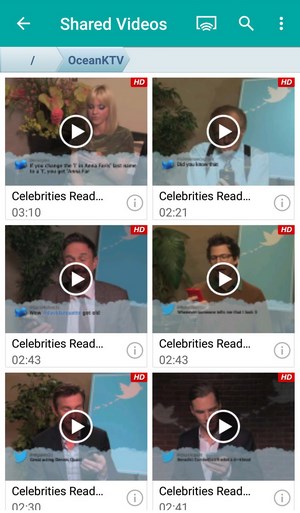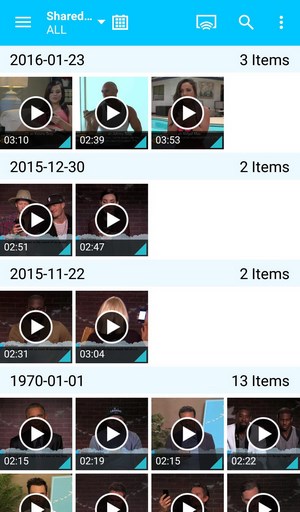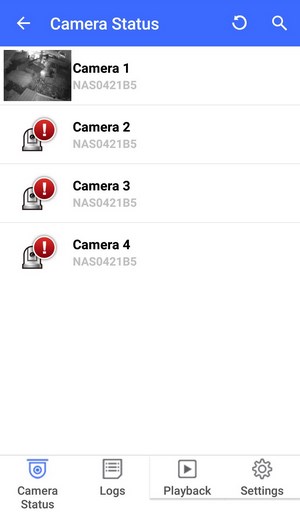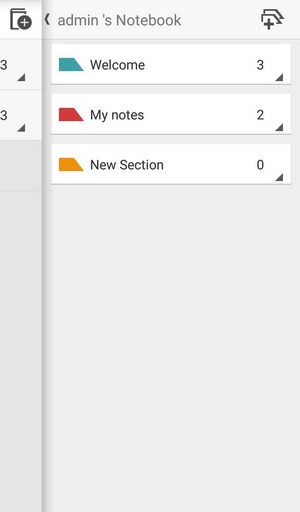 QNAP has a small selection of Android/iOS applications from where you can check the state of the NAS, enable/disable installed stations, share pictures, stream audio/video, start/pause torrent/HTTP/FTP downloads and access the surveillance station.
HYBRIDDESK STATION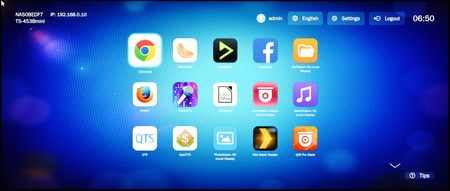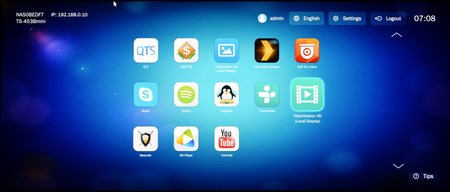 By installing the applications required to enable the HybridDesk Station you can use most of the applications found in the NAS from the comfort of your living room and/or bed. The applications installed are Google Chrome, Clementine (multi-platform music player), DeadBeef (music player), Facebook, File Station HD, Firefox, OceanKTV (Karaoke), LibreOffice (office suite), Surveillance Station, Music Station HD, QTS (web interface), OpenTTD (game), Photo Station HD, Plex Home Theater (media player), QVR Pro Client Beta (Surveillance Station Upgrade), Skype, Spotify (music download), Supertux (game), TuneInRadio (online radio), Video Station HD, Wesnoth (game), HD Player (combines the photo, music, video stations) and YouTube.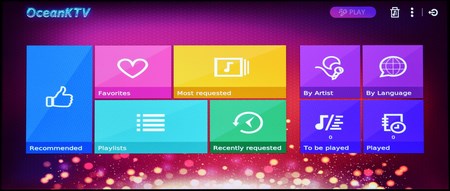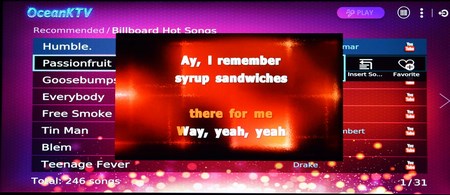 If Karaoke is your thing then the OceanKTV will brighten your day not only because of its new features but also because of its very easy to navigate interface.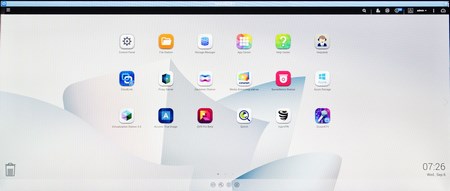 Accessing the QTS OS from HDMI is not as smooth as from your desktop but it can come in handy for emergencies.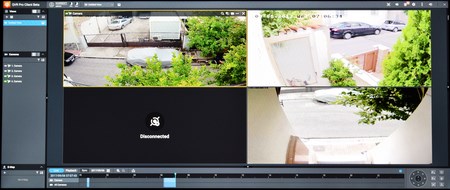 The new QVR Pro Client Beta is more versatile compared to the usual Surveillance Station Pro we've known for so long (only question is whether or not QNAP will make it available for free or not and if not will that be for all models?).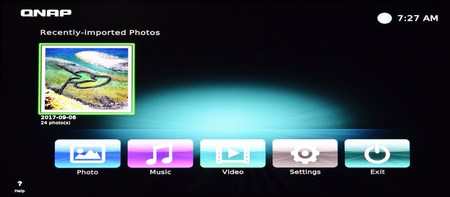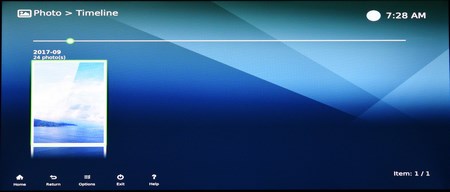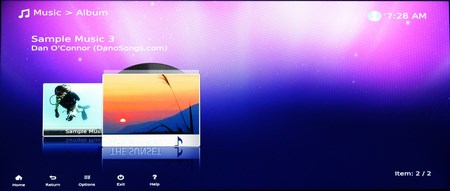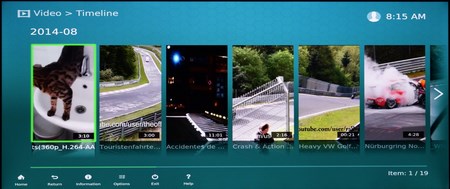 The HD Player allows you to view pictures, listen to audio and see video clips but it lacks many things we've gotten used to from KODI including support for some file formats (worth pointing out is that you can still install KODI on your own even though QNAP does not officially support it).
TESTING METHODOLOGY – PERFORMANCE RESULTS
Originally we had decided that since some of the NAS servers/devices we've tested in the past are no longer in our possession (naturally) we would keep performing the exact same testing methodology we did in the past for as long as possible in order to provide accurate comparison results. However since our real-life tests are not enough for some people we also decided to throw in ATTO and Crystal Disk Mark to cover the more demanding users. However as always we will be using a single Seagate Constellation ES.3 4TB SATA III and up to 10 Seagate Enterprise NAS 6TB SATA III hard disk drives with 3.5" compatible units (we switched to 6TB models for RAID tests since May 2017) and up to two (for now) Enterprise Capacity 2.5 HDD V3 2TB SATA III HDDs with 2.5" compatible units to perform several upload/download tests with 10.9GB (Single) and 40,8GB (RAID) files. Tests are repeated a total of 4 times after which we record the average numbers (from the 4 peak ones) into our charts. The network device used for 1GbE tests is the same Netgear D6300 AC1600 Gigabit ADSL2+ Modem/Router we've been using lately when performing tests on NAS servers. Since the 25th of June 2015 for 10GbE tests we'll be using a Netgear ProSafe XS712T 10G Smart Switch and an Intel XT540-AT2 10GbE PCIe card (10GbE compatible NAS cards will be provided from each company and stated in each review).
SINGLE DISK TESTS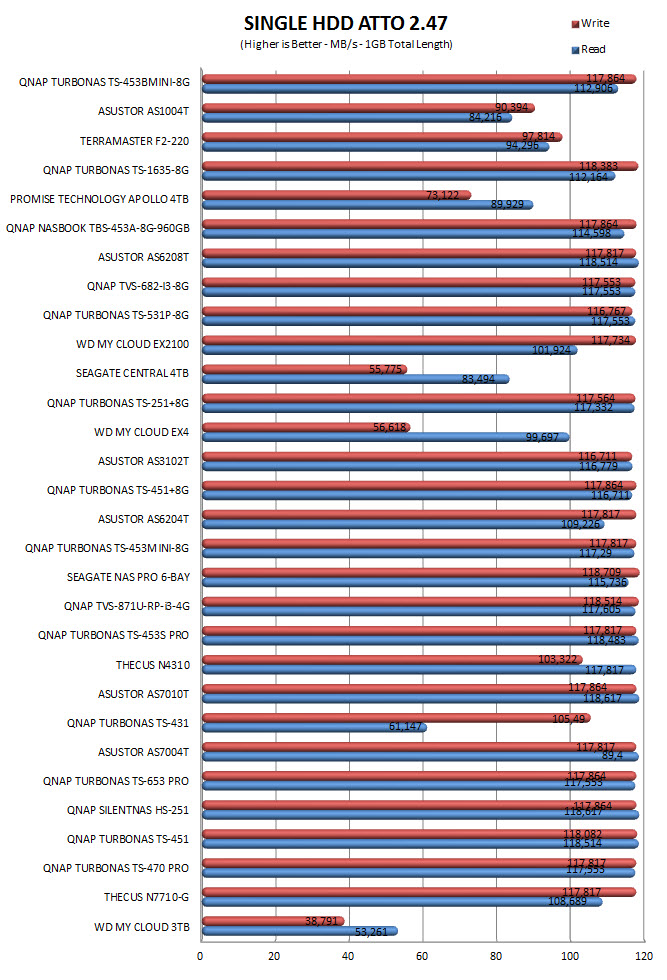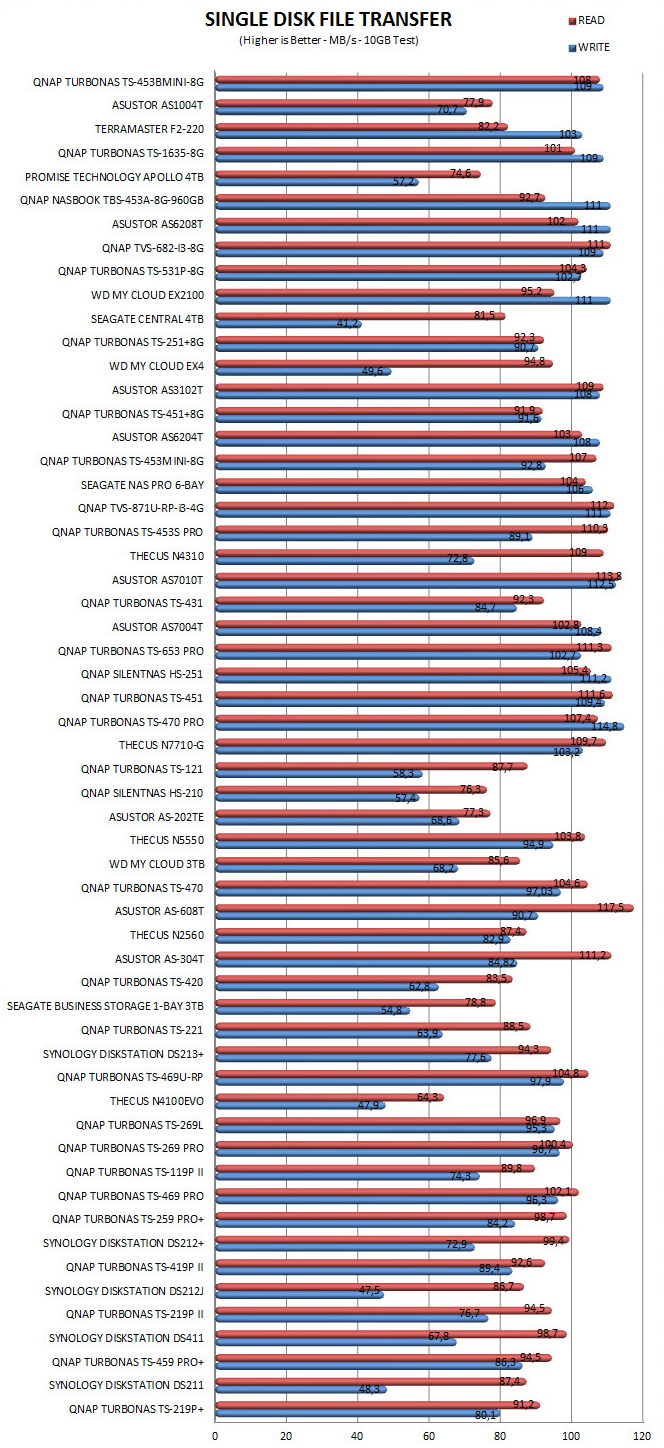 RAID TESTS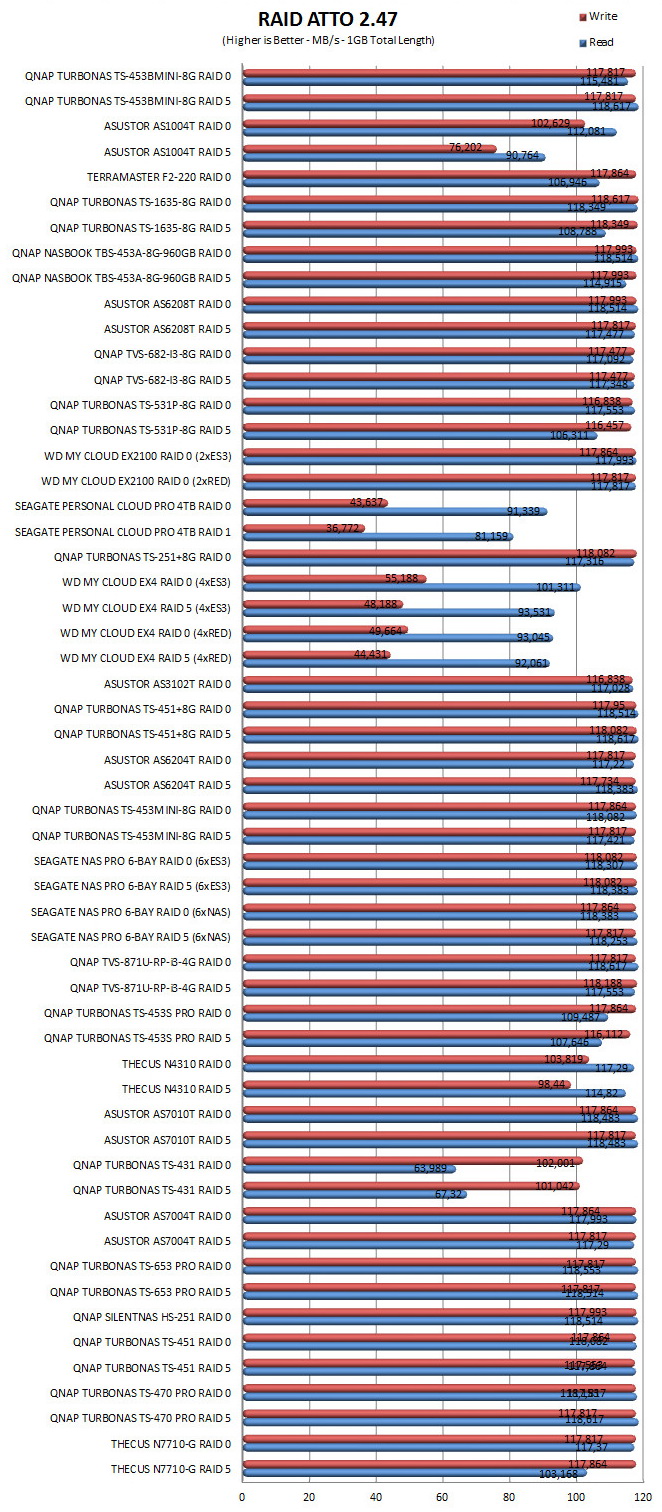 TEST RESULTS – TEMPERATURES / CONSUMPTION / NOISE
HDD TEMPERATURES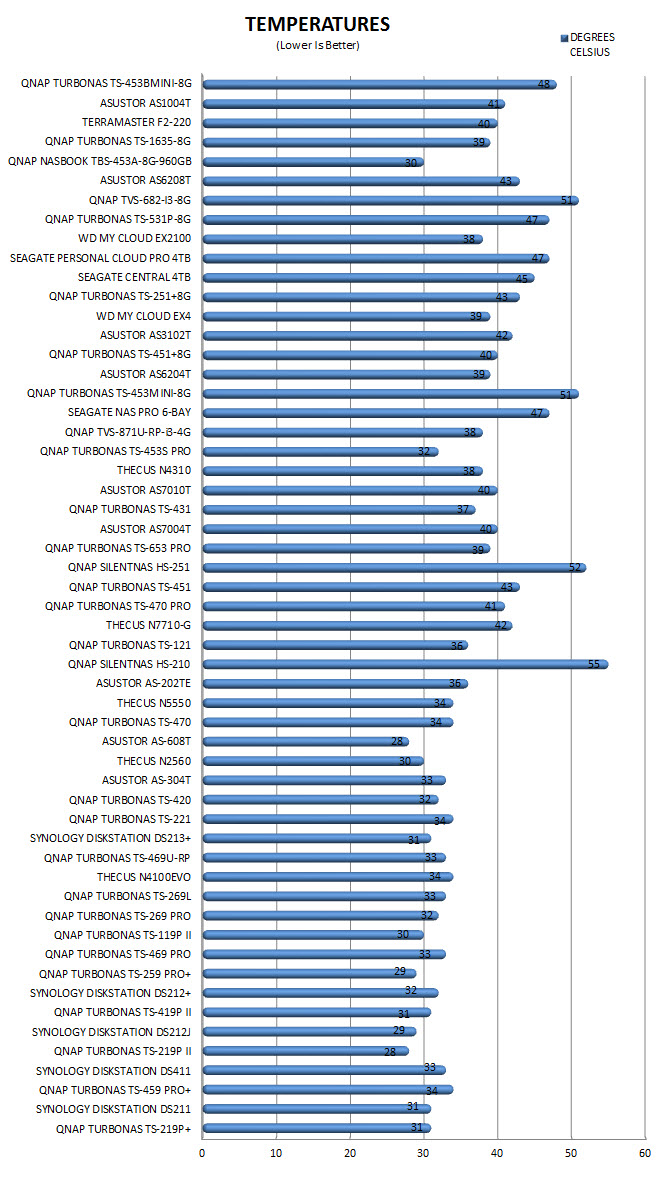 POWER CONSUMPTION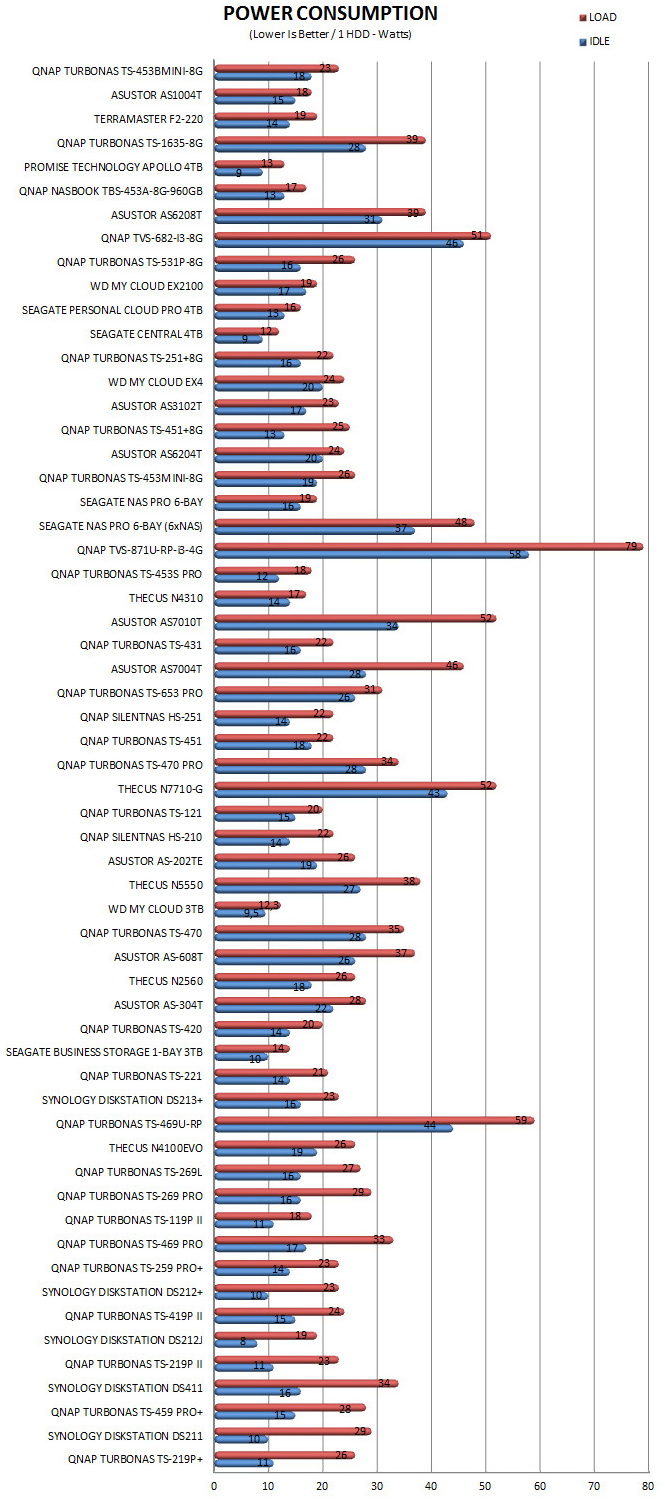 NOISE LEVELS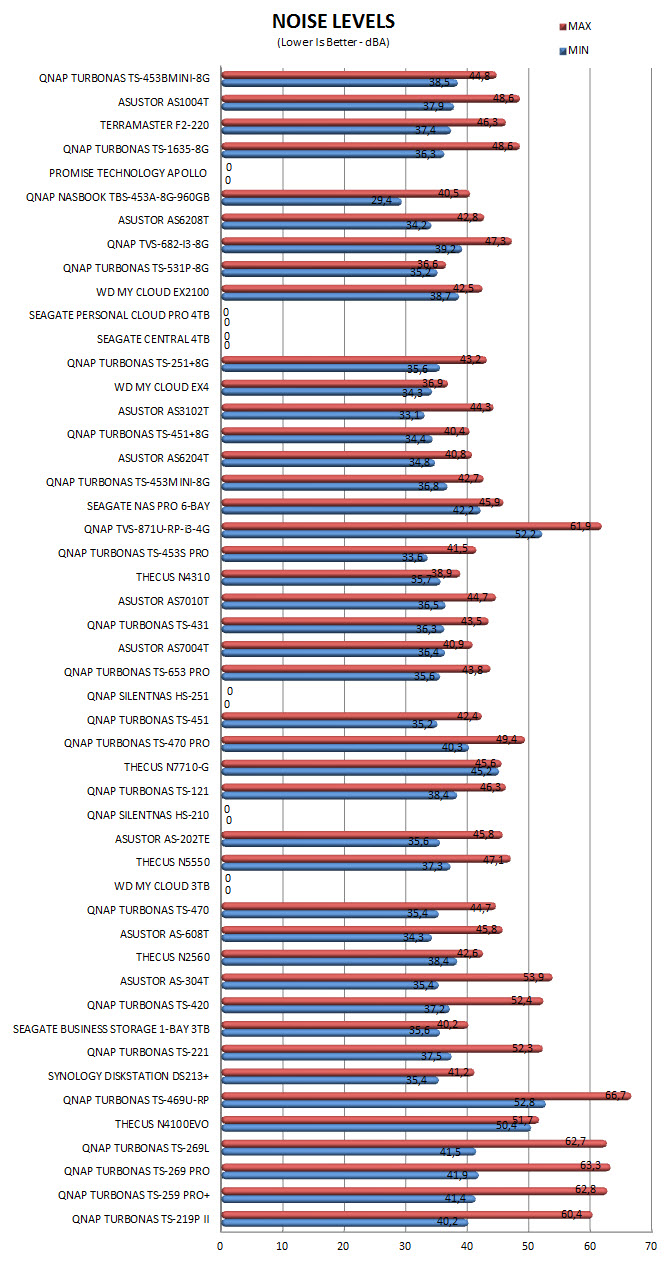 CONCLUSION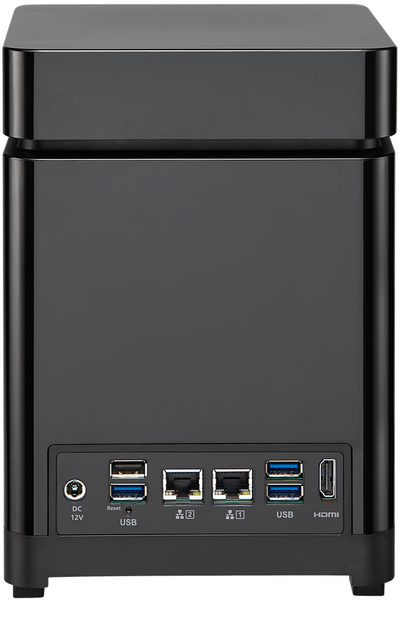 When we first tested the TS-453mini we liked its design, low noise levels and power consumption but most of all we liked its performance levels. Sure in some cases it couldn't exactly match the performance of more powerful models but for the most part it had nothing to be jealous of them. Well thanks to the new quad-core Intel Celeron processor and the faster RAM the brand new TS-453Bmini takes things to new levels and although it seems that QNAP did ignore our temperature remarks last time (they used the same exact fan which doesn't cool the drives inside as much as we'd like) we think it's a good upgrade overall. The new QVR Pro Client Beta with its extra features and better layout is also a good addition to the growing family of QNAP apps but until we see with which models it will be made free (if it ends up being free for some) we really can't say much about it. The lack of official KODI support has left countless users asking for it but it seems that it may take some time (if it ever happens) for QNAP to get back on that. Regardless however we do hope they come up with a comparable solution since their HD Player offers nowhere near what KODI does especially in terms of supported formats.

Just like its predecessor the TS-453Bmini by QNAP is currently available in two versions, one with 4GB of RAM and the one we tested today which comes with 8GB of RAM (the 4GB version has availability issues in the EU currently). The 4GB version currently retails for USD613 inside the USA (Amazon.com) while the 8GB version retails for USD698.90 inside the USA (Amazon.com) and for 673Euros inside the EU (Amazon.co.uk). Again just like its predecessor the price difference between the 4GB and 8GB versions makes the second far more appealing especially after taking into account that QNAP tests every single unit they ship to ensure 100% compatibility between modules. At the end of the day QNAP has once again released a very capable NAS server with the TS-453Bmini and although it may not be just as impressive as its predecessor when it was released it's still well worth of our Golden Award.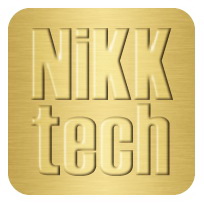 PROS

- Build Quality
- Intel Celeron J3455 Quad Core CPU
- Excellent Performance
- Features
- 8GB DDR3L 1600MHz RAM (Our Sample)
- Design/Size
- Power Consumption / Noise Levels
- 2 Gigabit Ethernet Ports
- 3 USB 3.0 Ports & 2 USB 2.0 Ports
- HDMI v1.4a 4k Output
- RAID 0/1/5/6/10/5 + Hot Spare
- QTS 4.3.3 OS


CONS

- Temperatures Could Be Better
- KODI Still Not Supported By QNAP