Details

Published on Thursday, 11 August 2016 08:13
INTRODUCTION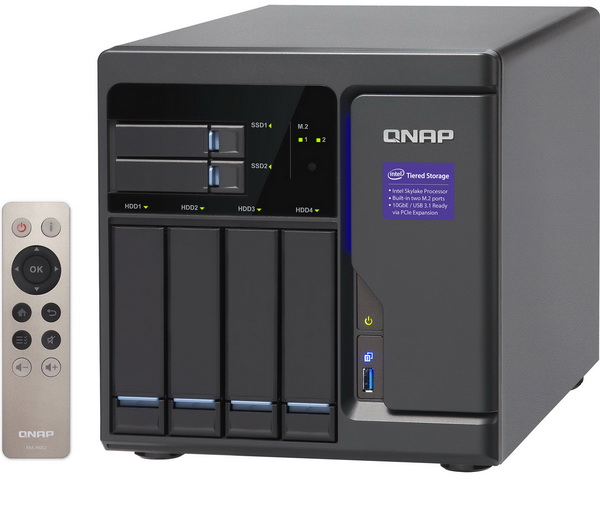 Solely based on recent sales numbers it seems that network attached storage devices (NAS) have not only managed to replace complete server systems as the backbone of small businesses and large enterprises but are also slowly (yet steadily) replacing HTPC (home theater PCs) and NVR (network video recorders) ones. At the same time as some of you have pointed out recently thanks to its cost, low power consumption and high customizability the Raspberry Pi platform is still favored by many people looking for a low-cost alternative to NAS devices but due to the massive difference in capabilities, computing power, quality, number of available bays and ready to use out of the box this is obviously aimed at an entirely different segment of the market. Today we'll be testing the latest addition in the small business (SMB) line of NAS servers by QNAP the extremely powerful and feature-rich TVS-682-I3-8G.

QNAP Systems, Inc., as its brand promise "Quality Network Appliance Provider", aims to deliver comprehensive offerings of cutting edge network attached storage (NAS) and network video recorder (NVR) solutions featured with ease-of-use, robust operation, large storage capacity, and trustworthy reliability. QNAP integrates technologies and designs to bring forth quality products that effectively improve business efficiency on file sharing, virtualization applications, storage management and surveillance in the business environments, as well as enrich entertainment life for home users with the offering of a fun multimedia center experience. Headquartered in Taipei, QNAP delivers its solutions to the global market with nonstop innovation and passion.

The TVS-682-I3-8G is actually the 3rd NAS server based on an dual-core Intel Core i3 CPU (i3-6100 model - 3.7GHz with 3MB SmartCache and 4 threads) to ever reach our lab (also available with thunderbolt connectivity) but for people who may want to save some money in the process QNAP also makes its available with a less powerful (yet still very fast) dual-core Intel Pentium CPU (G4400 - 3.3GHz with 3MB SmartCache and 2 threads). Since both models feature Intel HD Graphics (530 for the i3 model and 510 for the Pentium model) they support DirectX v12, OpenGL v4.4 and 4k playback at 60Hz. Both models also feature a total of 8GB DDR4 RAM (expandable to 64GB), 512MB of DOM flash memory, two PCIe slots (Gen3x16/Gen3x4), four 2.5/3.5" drive bays, two 2.5" drive bays and two M.2 2242/2260/2280/22110 slots. External connectivity however is where the TVS-682 really has no competition since it offers one HDMI v2.0 port, two HDMI v1.4b ports, 5 USB 3.0 ports, 4 Gigabit Ethernet Ports (support link aggregation), 2 microphone 6.3mm inputs, single 3.5mm audio/line-out and two built-in speakers (can't be used simultaneously with the 3.5mm output). So is the brand new TVS-682 the "ultimate" NAS server for small businesses, offices and even demanding home users? Let's find out.
SPECIFICATIONS AND FEATURES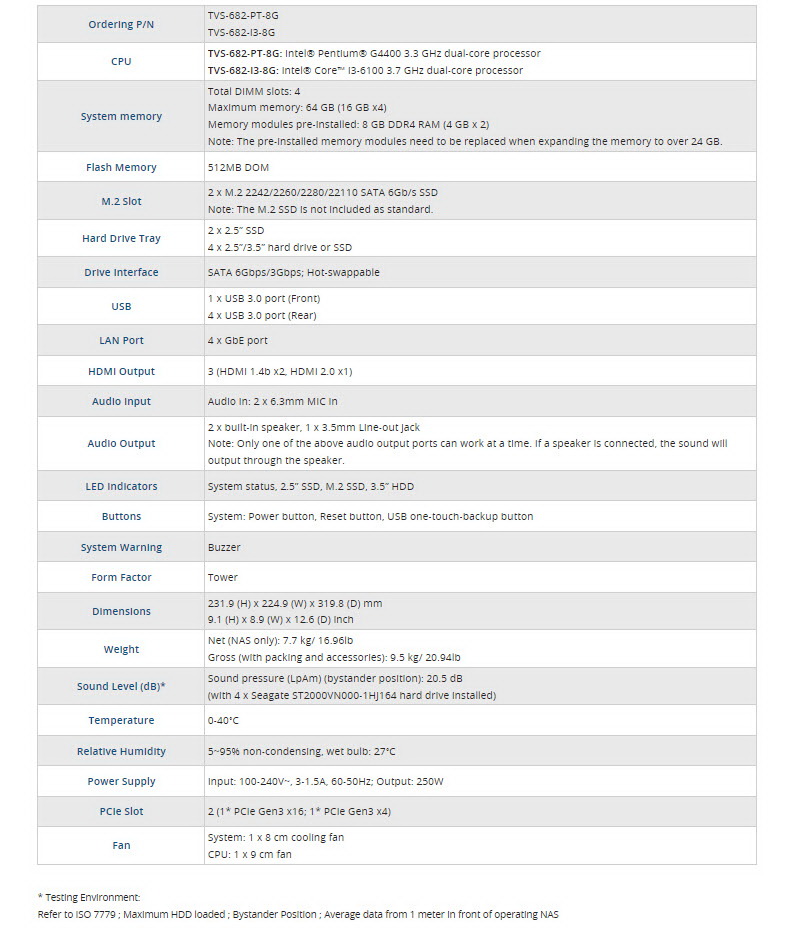 PACKAGING AND CONTENTS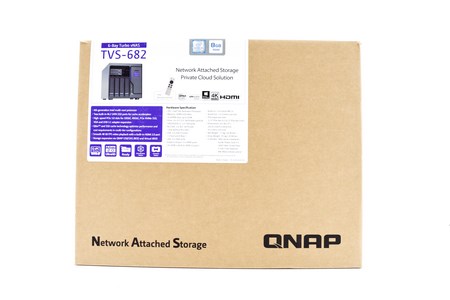 QNAP packs the TVS-682 inside a regular cardboard box that has a large sticker at the front with the product specifications and main features.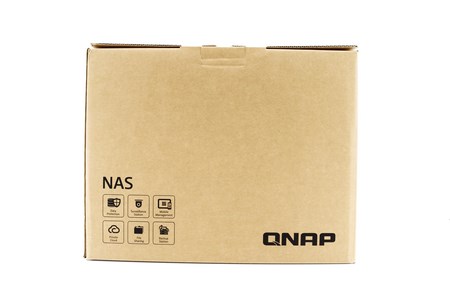 Some of the available stations are showcased at the rear of the box in the form of small boxes.
The welcome message is once again the very first thing you will see once you open the box.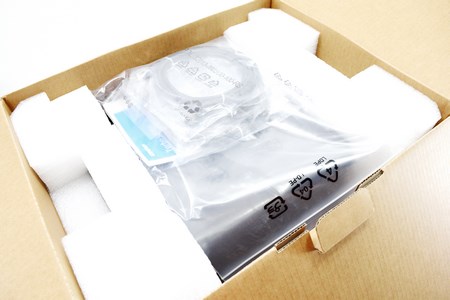 Two thick foam spacers keep the NAS safe while the rest of the bundle is placed in plastic bags.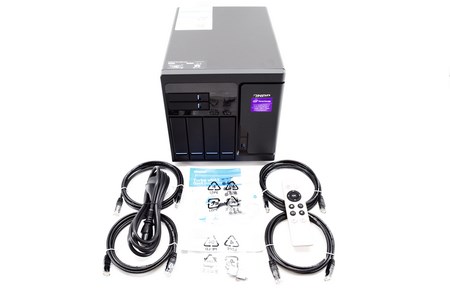 Contained inside the box is the TVS-682 NAS with its power cord, remote control, 4 Ethernet cables, 2 small plastic bags with screws and the quick start guide.
THE TVS-682-I3-8G EXTERIOR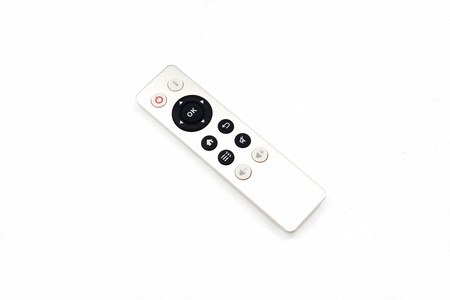 The remote control is standard for most QNAP NAS with HDMI but still it's quite useful.
The TVS-682 follows the typical QNAP design and measures 319.8mm in length, 224.9mm in width and 231.9mm in height.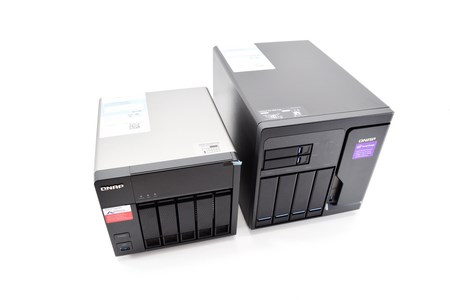 To get a better idea about the size of the TVS-682 we placed it right next to the 5 bay TS-531P which we just finished testing.
I was surprised to see that unlike most QNAP models there's no perforation on either side of the NAS.
The fascia is different than most models by QNAP since it has four 2.5/3.5" and two 2.5" trays (the on/off button and a USB 3.0 port are both located on the lower right).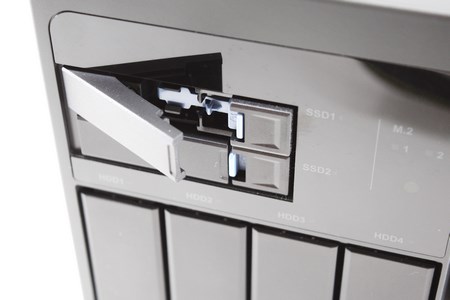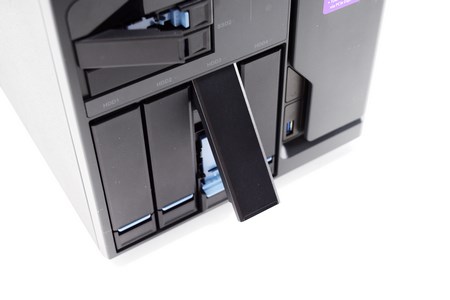 All trays feature push-to-release mechanisms (you can lock them by pushing the blue button up as seen on the bottom 2.5" tray).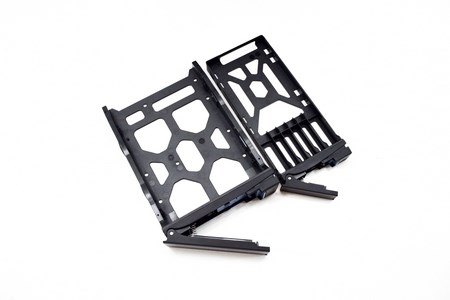 Unfortunately unlike most QNAP NAS models the trays used in the TVS-682 are made out of plastic.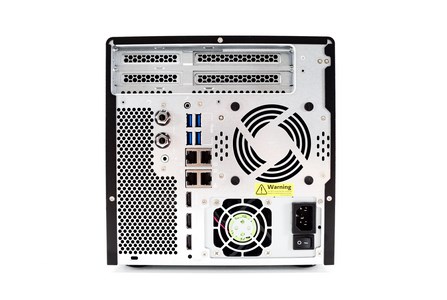 The rear of the TVS-682 is more populated with connectors than any other NAS we've seen in the past.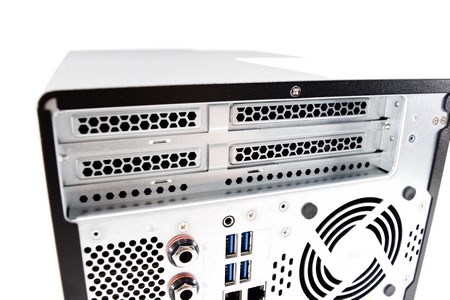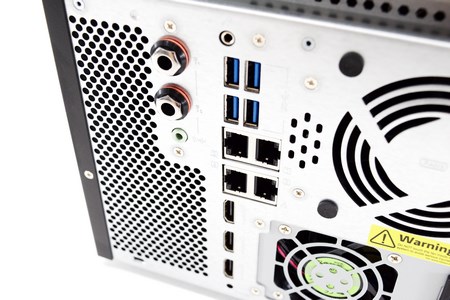 At the top we see the two PCIe slots (can be used with 10G/40G Ethernet cards and even PCIe SSDs) and right beneath we see a 80mm exhaust fan, three HDMI ports (two v1.4b and one v2.0), 4 USB 3.0 ports, 4 Gigabit Ethernet Ports, 2 microphone 6.3mm inputs, single 3.5mm audio/line-out and a Kensington port.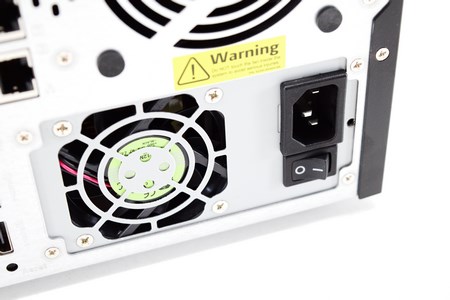 There's also a 40mm exhaust fan along with the on/off power button and the power port at the lower right corner.
THE TVS-682-I3-8G INTERIOR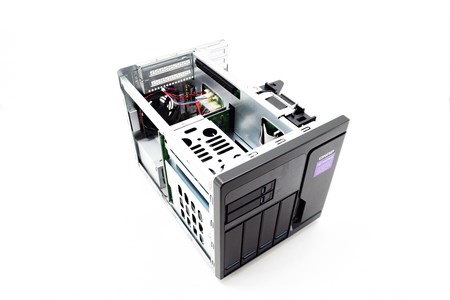 As with most QNAP NAS taking off the top/side cover just requires removing the three screws holding it at the rear.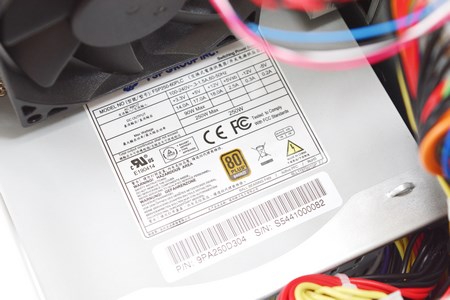 QNAP has used an 80 Plus Bronze certified 250W PSU from FSP Group.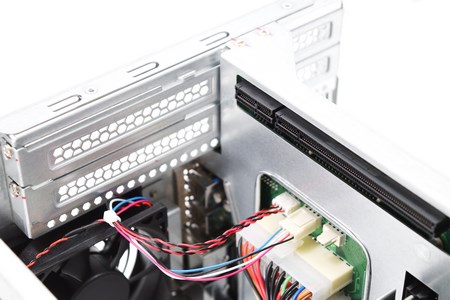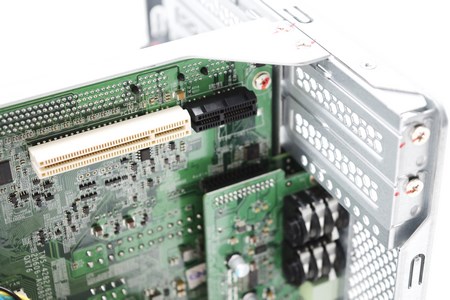 Although the PCIe Gen3x4 slot is a low-profile one the Gen3x16 is a full size one and can be used even with PCIe SSDs (NVMe included).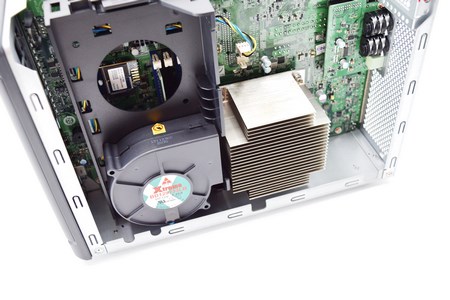 A large heatsink is placed over the CPU and there's also a blower fan right next to it.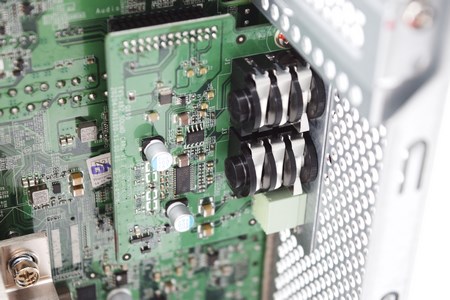 I was surprised to see that QNAP placed 2 microphone 6.3mm inputs in the TVS-682 for use with their OceanKTV karaoke app.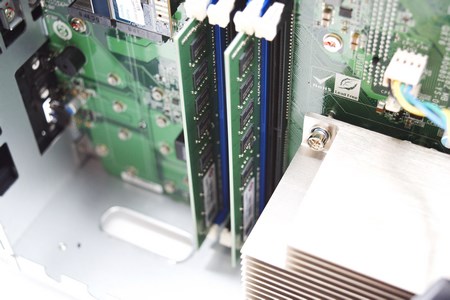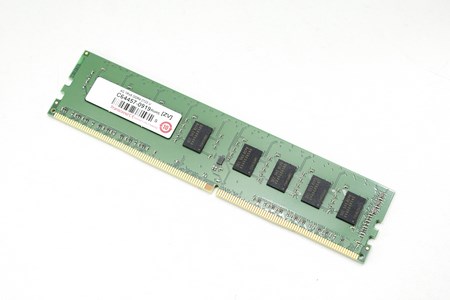 The mainboard used in the TVS-682 takes regular DIMMs and by default it comes with two DDR4 modules running at 2133MHz by Transcend.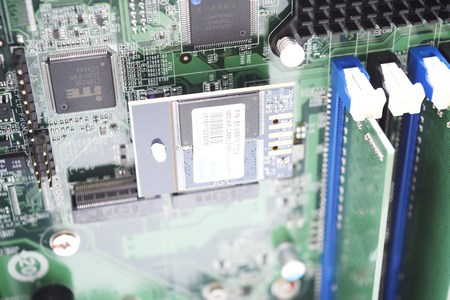 As usual the 512MB DOM flash memory module is supplied by Apacer.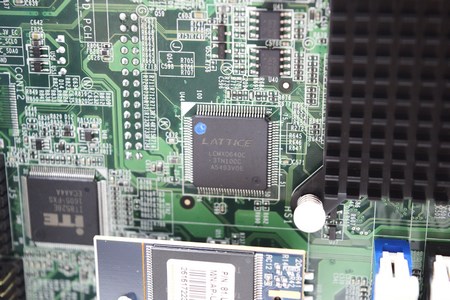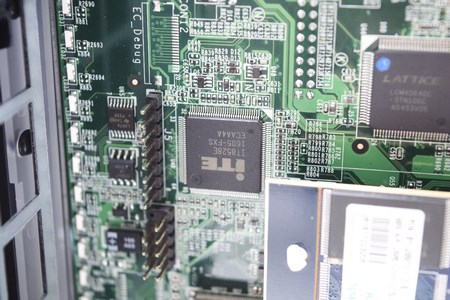 We also see a field programmable gate array and a voltage regulator.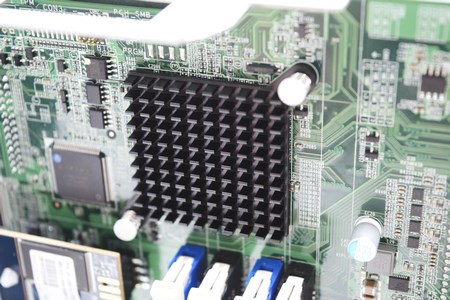 A medium-sized black heatsink is placed right over the Northbridge which is located just over the RAM slots.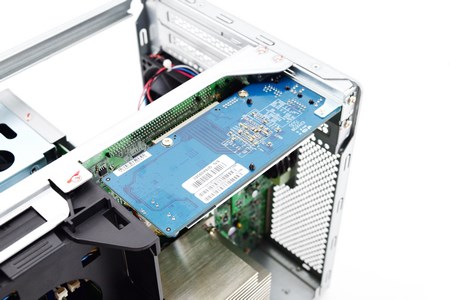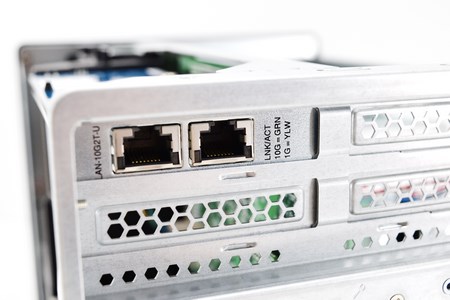 Since the TVS-682 can be used with 10G/40G cards we used one of our LAN-10G2T-U cards.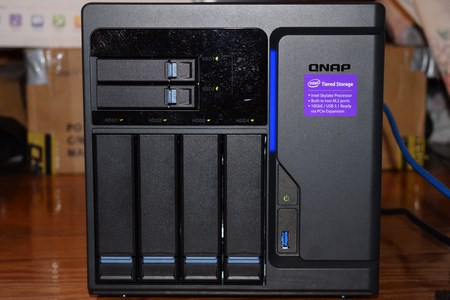 As expected each drive bay has its very own activity LED but again unlike most QNAP NAS the TVS-682 also has a vertical blue LED right next to the power button.
SETUP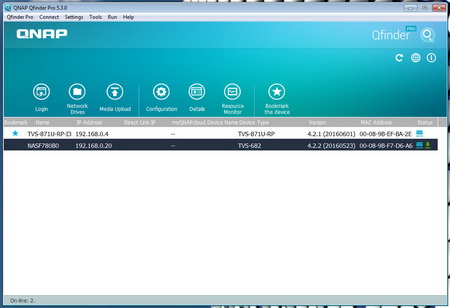 There are several ways you can detect and setup the NAS but Qfinder Pro is the easiest and this is what we've been using for years.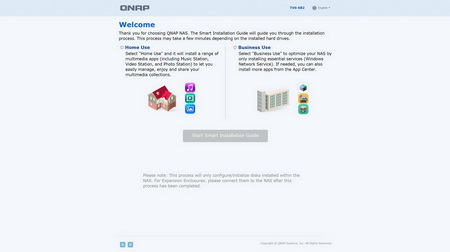 Depending on the usage you want for the NAS you can configure it either for Home or Office use. The first also loads multimedia applications while the second only loads necessary services (we used Business for our tests).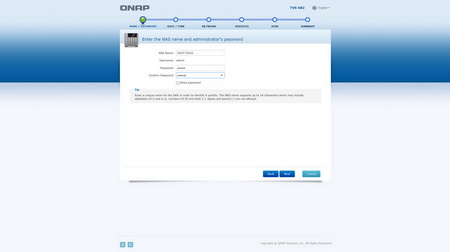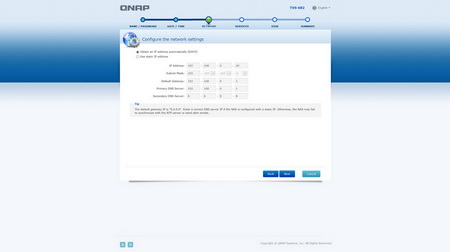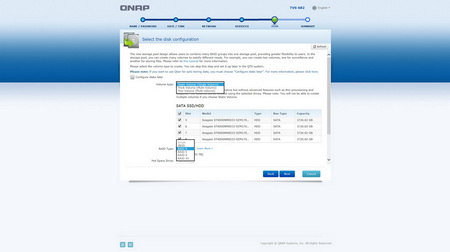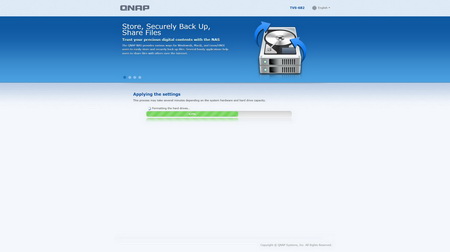 After you make the choice you only have to enter a new name for the NAS and a new password (if you want to change the default ones), setup the network settings, select the applications you want to be available and choose the desired configuration for the drives.
QTS 4.2.2 PART 1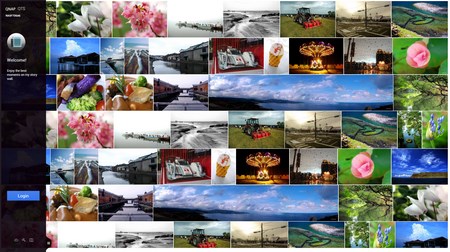 This is our first review with the latest QTS 4.2.2 version but just like with previous ones the login screen (and the GUI in general) hasn't really changed.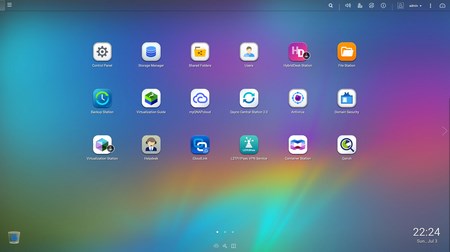 Once again the main screen lists all of the installed applications, some which you can install by clicking on them and of course the control panel.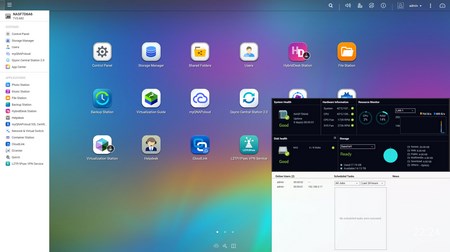 As usual you can access the very detailed resource monitor from the lower left corner while a drop down start-like menu can be accessed from the top left corner.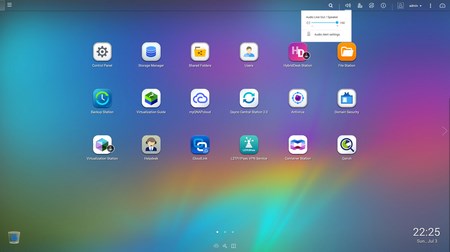 You can also adjust the volume levels of the dual speakers and/or the 3.5mm audio output from this icon placed at the top.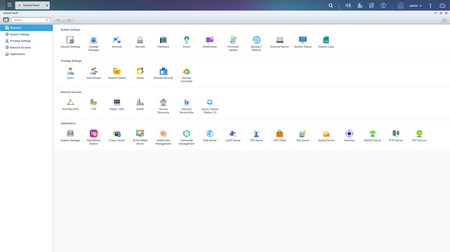 Just like with every QNAP NAS review in the past almost every available setting is placed inside the control panel of the QTS.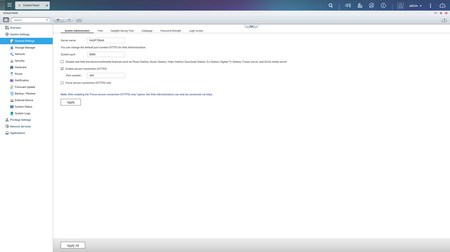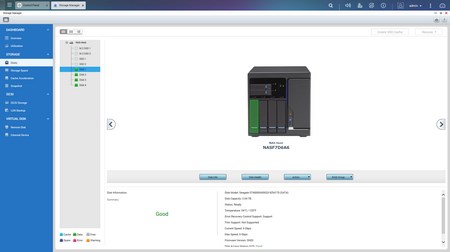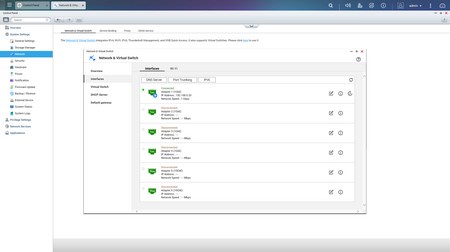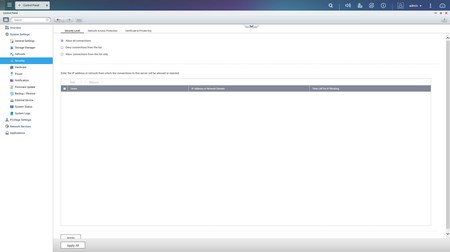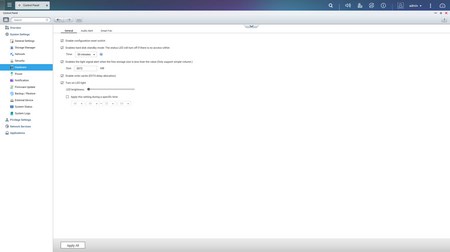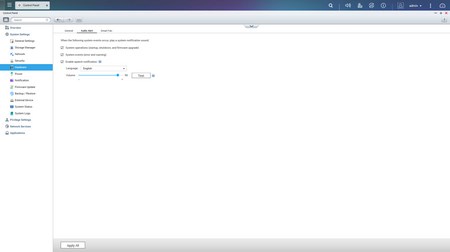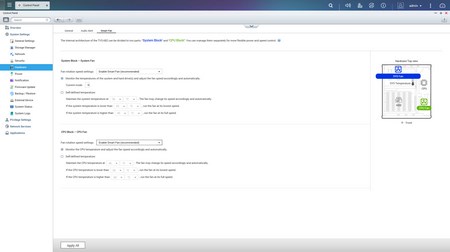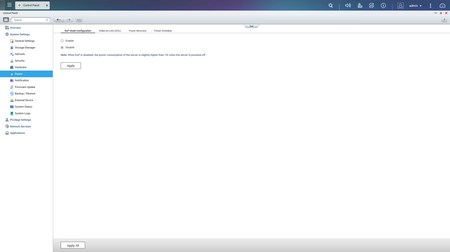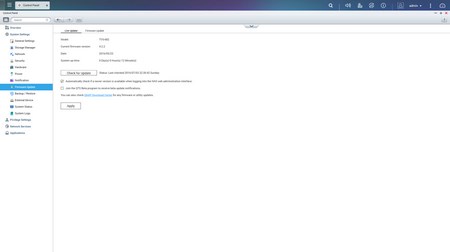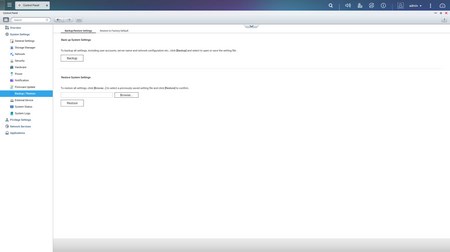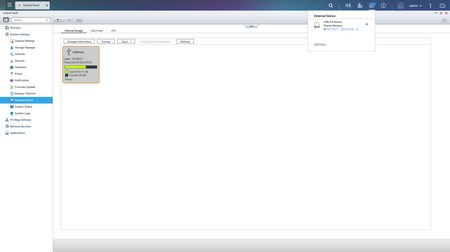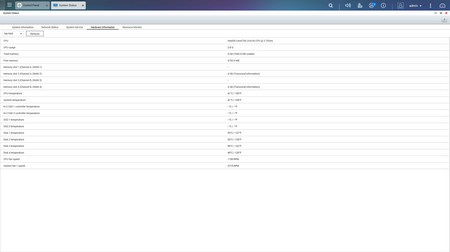 Via the System Settings menu you can set the name for the server, adjust time, set a password, change the codepage, adjust the login screen, specify your location, adjust the network IP, check the status of the Ethernet ports, access the network and virtual switch feature (if installed), play around with power options, set email/sms/push service notifications, check the state of the installed drives, create RAID and Virtual drives, setup SSD cache acceleration, enable/disable security settings, configure the speed of the two fans (system and CPU), backup and restore NAS data, configure and check the status of external devices, check hardware information, setup backup options, access external device settings, check the logs and of course perform firmware updates (beta ones included).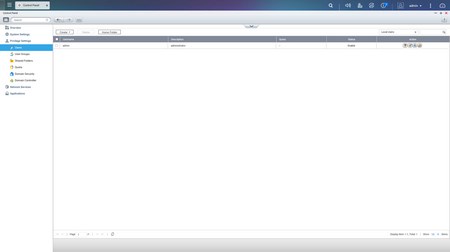 The Privilege Settings tab is still very basic and allows you to create new users, assign those users to groups, setup shared folders, set specific quotas for each user and configure domain security.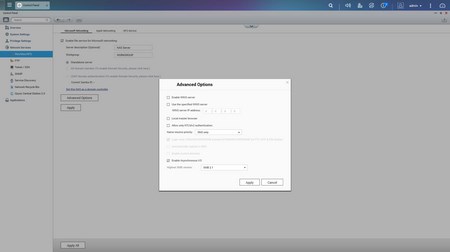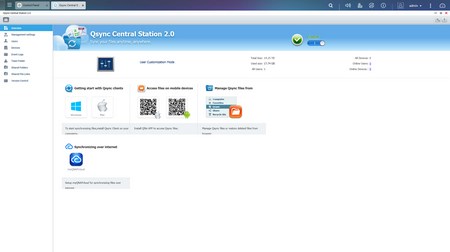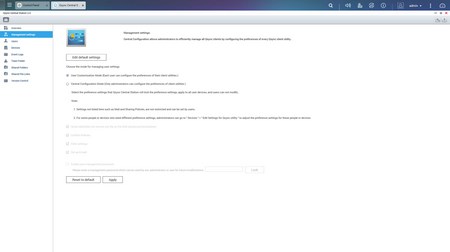 From within the Network Services menu you will find everything network-related including FTP settings, Telnet service settings and service discovery settings. You can also setup/configure the Qsync Central Station v2.0 which allows you to have your files synced between the NAS and your other internet capable devices at all times.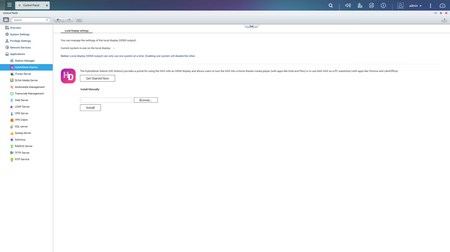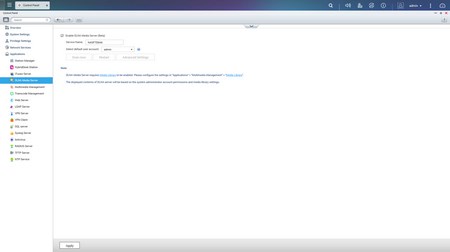 In order to use some of the installed stations you will need to enable them from within the Applications tab (the HybridDesk Station Is needed to enable HDMI output).
QTS 4.2.2 PART 2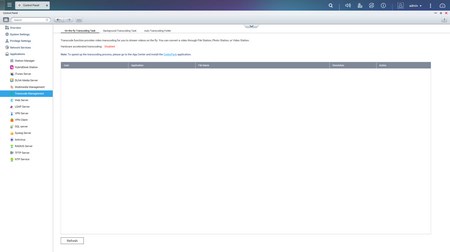 Video transcoding allows for on-the-fly video conversion and streaming.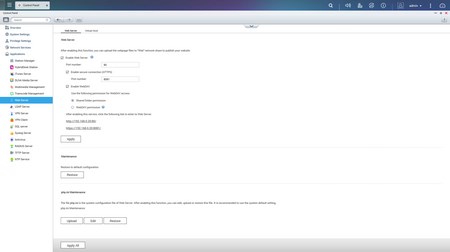 Owning a powerful NAS server can come in handy so if you wish to use it to host your very own web page you can do so from the web server tab.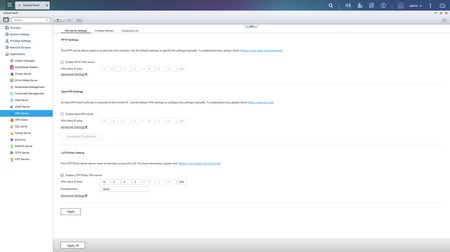 Setting up your very own virtual private network (VPN) can always come in handy and the TVS-682 allows you to do that rather easily.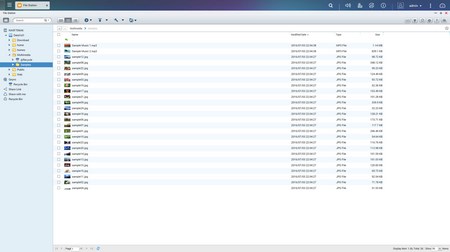 Via the File Station you can transfer files to and from the NAS and although also revamped it still looks quite a bit like the Windows explorer.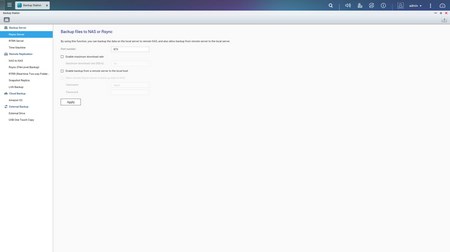 Much like with all previous QTS versions you can use the backup station to backup data from your local computer and onto the NAS (or from another NAS to this NAS) or to backup data directly online with Amazons S3 Cloud Service.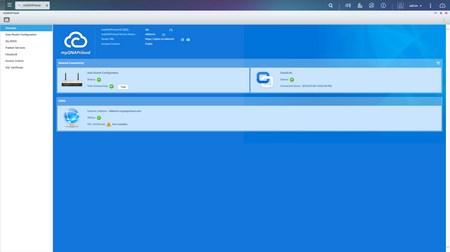 Via QNAP's myQNAPCloud app you can access the NAS and all its features from another computer or your mobile devices from all over the world (setting up port forwarding for your model/router however may take a few more steps than the app states since not all routers have UPNP turned on).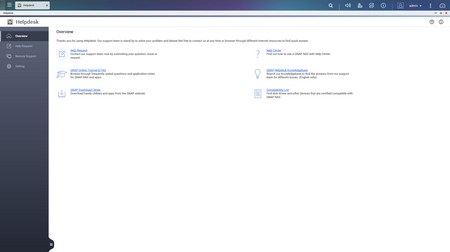 Via the Helpdesk station you can request help from QNAPs support team, access the help center and check the knowledgebase.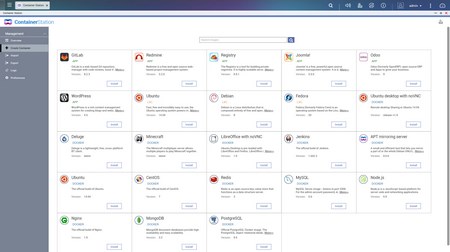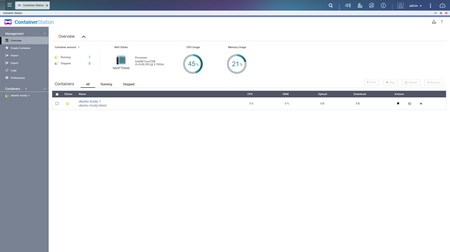 The Container Station Is a new app which allows the end user to install Linux releases like Ubuntu and several other programs like Minecraft onto the NAS just by clicking on them (download is automatic).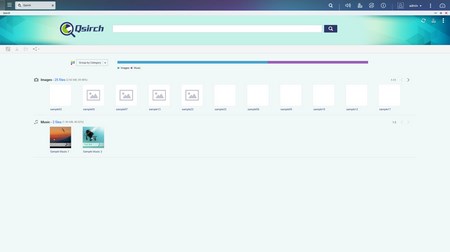 Qsirch is a brand new application which allows the end user to search for specific files inside the NAS at incredible speeds. It may not come in handy much for home use but for office use it could prove to be a valuable addition.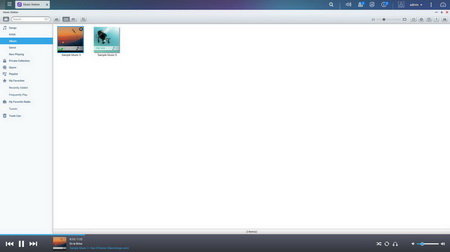 The Music Station has changed very little lately but looks aside you can still use it to stream and playback your entire music collection without switching to an external application.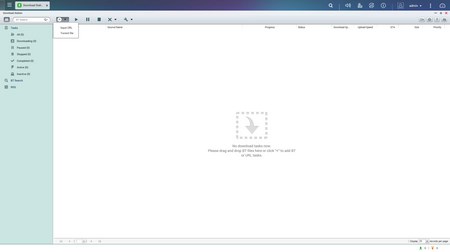 You can use the Download Station for torrents or direct HTTP/FTP download (also consider using rtorrent since it's a more "complete" solution).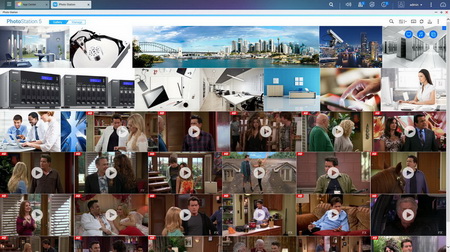 The photo station app keeps getting better and better and is now easier to see and share all your pictures (not only pictures since it also scanned the NAS for video media too) with other PC's (local and remote) and mobile devices.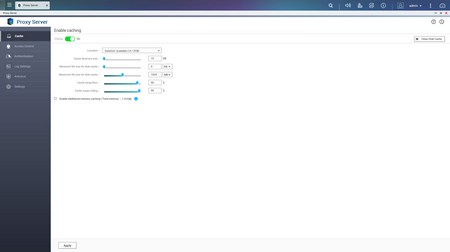 The TVS-682 can also be used as a proxy server for other systems.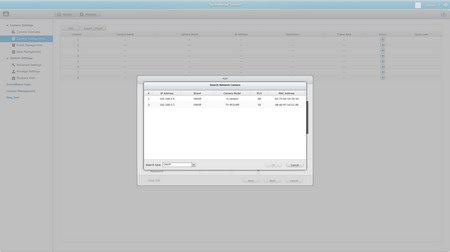 As usual if you decide to use the Surveillance Station to record feed from your IP cameras I suggest switching from UDP/UPnP to ONViF detection (if your cameras support it) since that's the only setting that allows 3 out of 3 of our cameras to be detected without problem.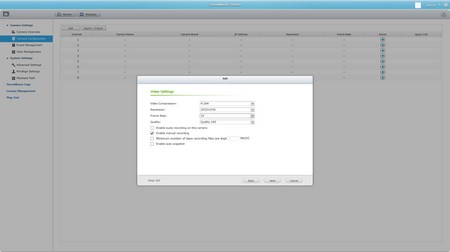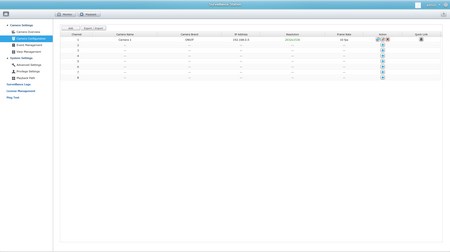 The rest of the tabs remain pretty much the same as with previous versions so once again you get various settings to choose from (you can set the recording length and store period for your recordings) and of course the ability to add more camera licenses (out of the box the TVS-682 comes with a license for a total of 8 IP cameras).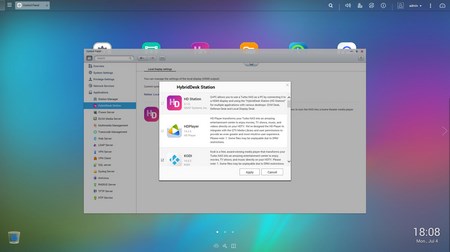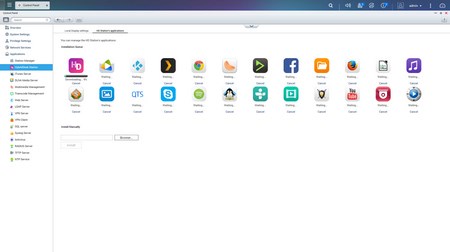 Using the HDMI output requires the installation of the HybridDesk station which in turn installs a total of 24 apps/shortcuts.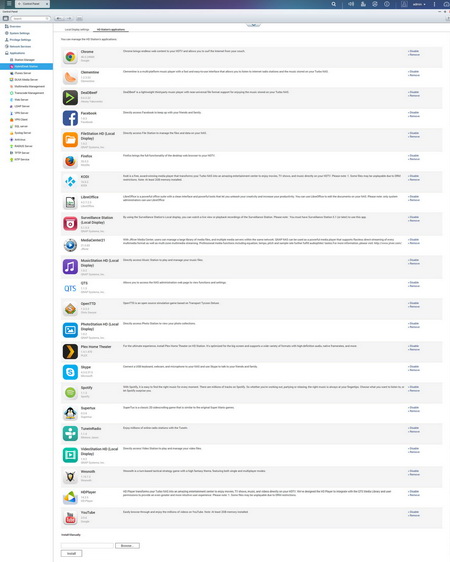 As usual by default the QTS has but a few applications/stations installed but you can install many more from within the App Center.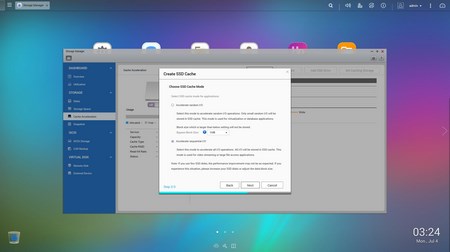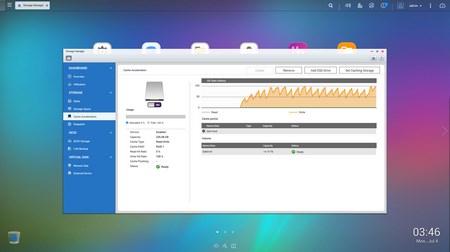 Since many of you have asked in the past we decided to use two SSDs (Toshiba Q300 Pro 240GB / Crucial MX300 750GB) with our tests in order to enable SSD Cache in RAID configurations.
ANDROID / IOS APPS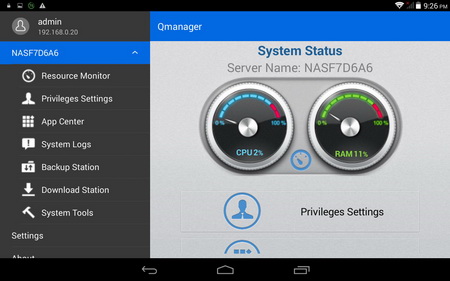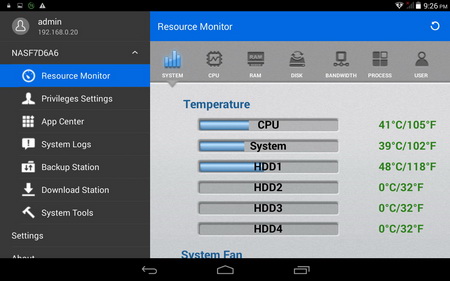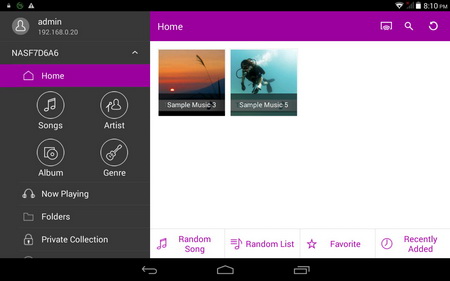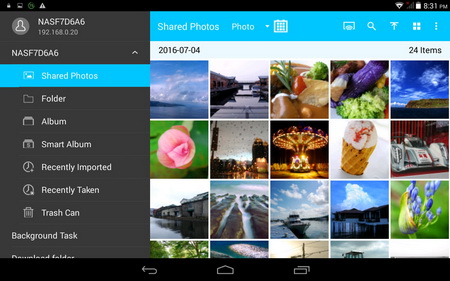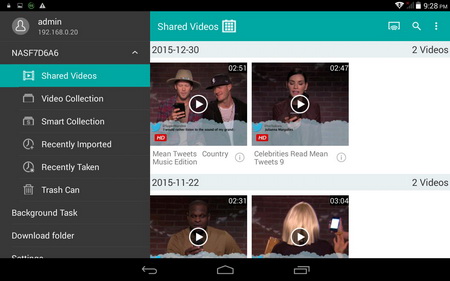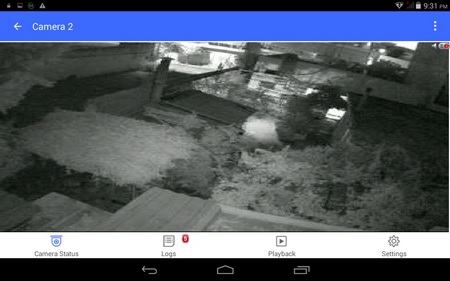 QNAP has a small selection of Android/iOS applications from where you can check the state of the NAS, enable/disable installed stations, share pictures, stream audio/video, start/pause torrent/HTTP/FTP downloads and access the surveillance station.
HYBRIDDESK STATION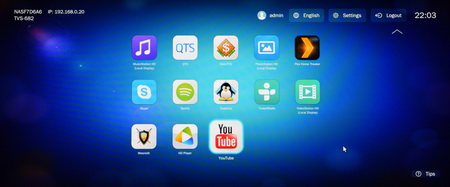 By installing the applications required to enable the HybridDesk Station you can use most of the applications found in the NAS from the comfort of your living room and/or bed. The applications installed are Google Chrome, Clementine (multi-platform music player), DeadBeef (music player), Facebook, File Station, Firefox, KODI 16 (XBMC), LibreOffice (office suite), Surveillance Station, Media Center 21 (media station), Music Station HD, QTS (web interface), OpenTTD (game), Photo Station HD, Plex Home Theater (media player), Skype, Spotify (music download), Supertux (game), TuneInRadio (online radio), Video Station HD, Wesnoth (game), HD Player (combines the photo, music, video stations) and YouTube.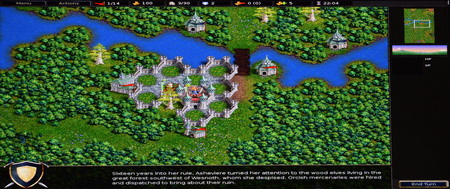 Wesnoth reminds me of the games I used to play in Amiga 500 Plus and although I didn't really end up playing it I may give it a try in the future.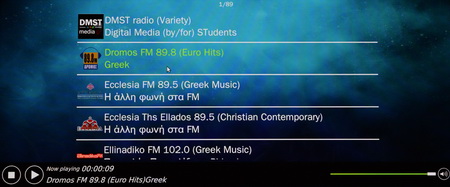 TuneInRadio had no problem detecting local online radio stations as you can see from the above picture (never knew that the Church had a radio station too here).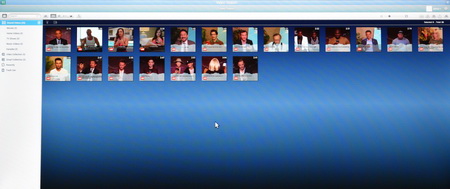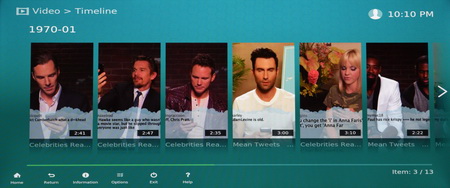 The Video Station and Media Center both allow you to playback all video clips stored inside the NAS without having to launch the more resource-hungry KODI.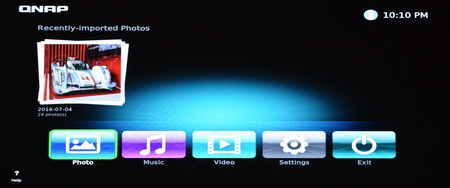 All the recent pictures can be accessed from within the Photo Station HD.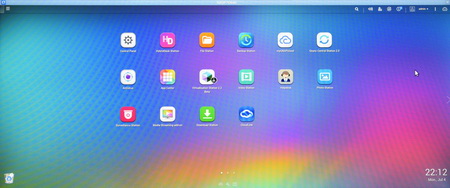 As usual you can also access the QTS GUI via HDMI but it's just not as fast/smooth as when accessed via a computer.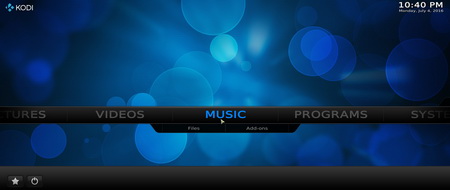 KODI is the one application that we like to focus on since its performance is the decisive factor for people who are looking to get units with HDMI outputs (we tested the TVS-682 with version 16).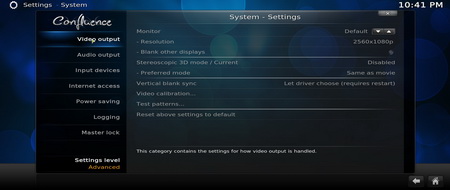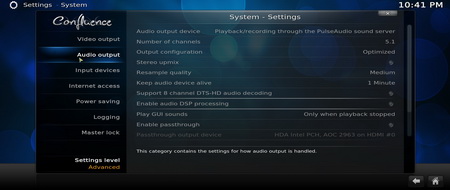 Still the developers allow the end user to personalize the KODI application quite a bit (for example change the skin of the menus and set the region/language/audio language options) and change a plethora of settings for video and audio output.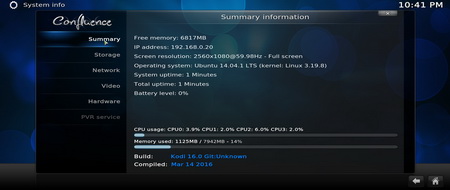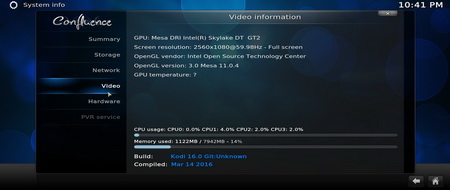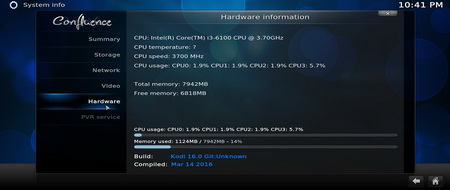 Important information like the hardware components of the unit is once again accessible through KODI.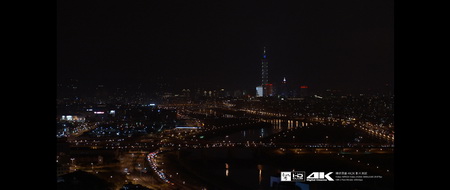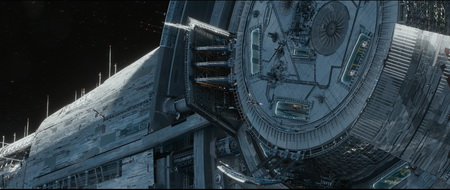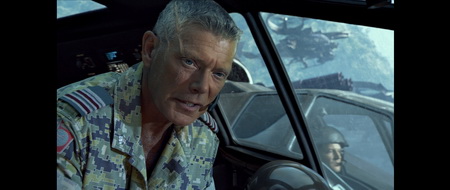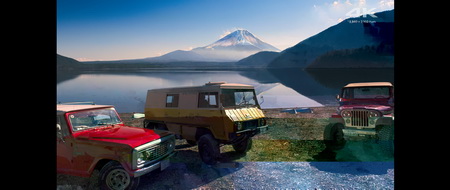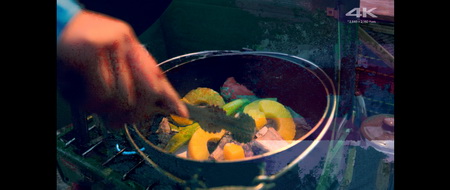 Our Blu-Ray MKV rip of Avatar S.E (42GB) was once again used to test the playback capabilities of the NAS at hand and once again we experienced one of the smoothest playbacks of this particular file (we literally didn't encounter even a single glitch/freeze/lag). Unfortunately although 4k clips were also smooth we did encounter some graphical anomalies with SONY's demo file but these are probably due to some KODI bug (from now on we're testing NAS servers on a 2560x1080p ultra-wide screen which is not compatible with all media thus the cropping on the sides seen above).
TESTING METHODOLOGY – PERFORMANCE RESULTS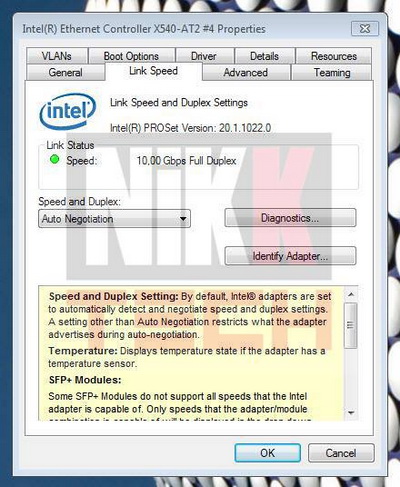 Originally we had decided that since some of the NAS servers/devices we've tested in the past are no longer in our possession (naturally) we would keep performing the exact same testing methodology we did in the past for as long as possible in order to provide accurate comparison results. However since our real-life tests are not enough for some people we also decided to throw in ATTO and Crystal Disk Mark to cover the more demanding users. However as always we will be using up to six Seagate Constellation ES.3 4TB SATA III hard disk drive(s) with 3.5" compatible units and up to two (for now) Enterprise Capacity 2.5 HDD V3 2TB SATA III HDDs with 2.5" compatible units to perform several upload/download tests with 10.9GB (Single) and 40,8GB (RAID) files. Tests are repeated a total of 4 times after which we record the average numbers (from the 4 peak ones) into our charts. The network device used for 1GbE tests is the same Netgear D6300 AC1600 Gigabit ADSL2+ Modem/Router we've been using lately when performing tests on NAS servers. Since the 25th of June 2015 for 10GbE tests we'll be using a Netgear ProSafe XS712T 10G Smart Switch and an Intel XT540-AT2 10GbE PCIe card (10GbE compatible NAS cards will be provided from each company and stated in each review).
SINGLE DISK TESTS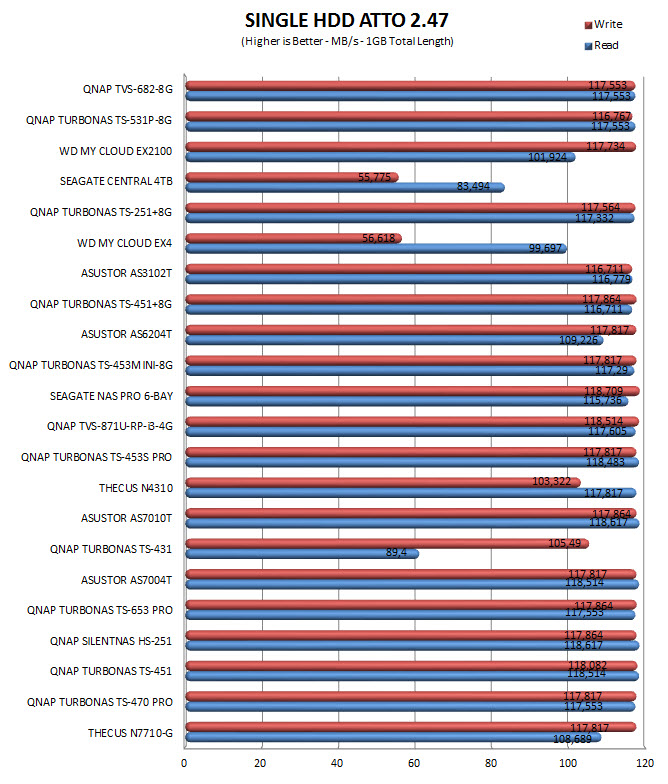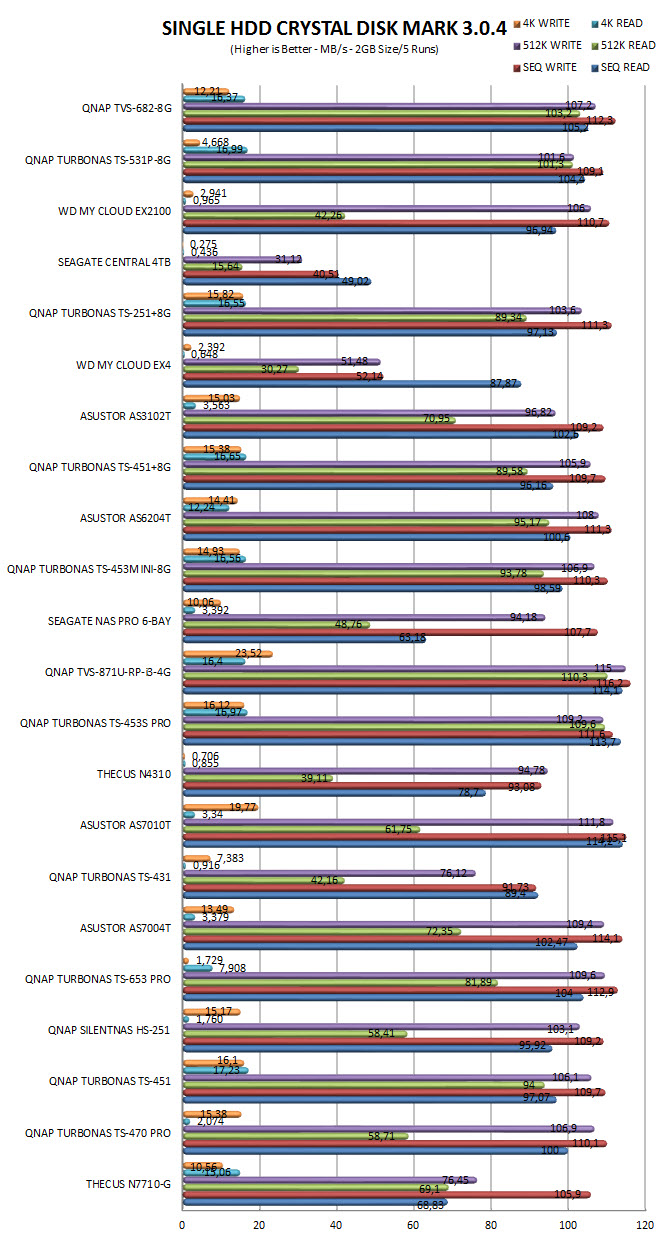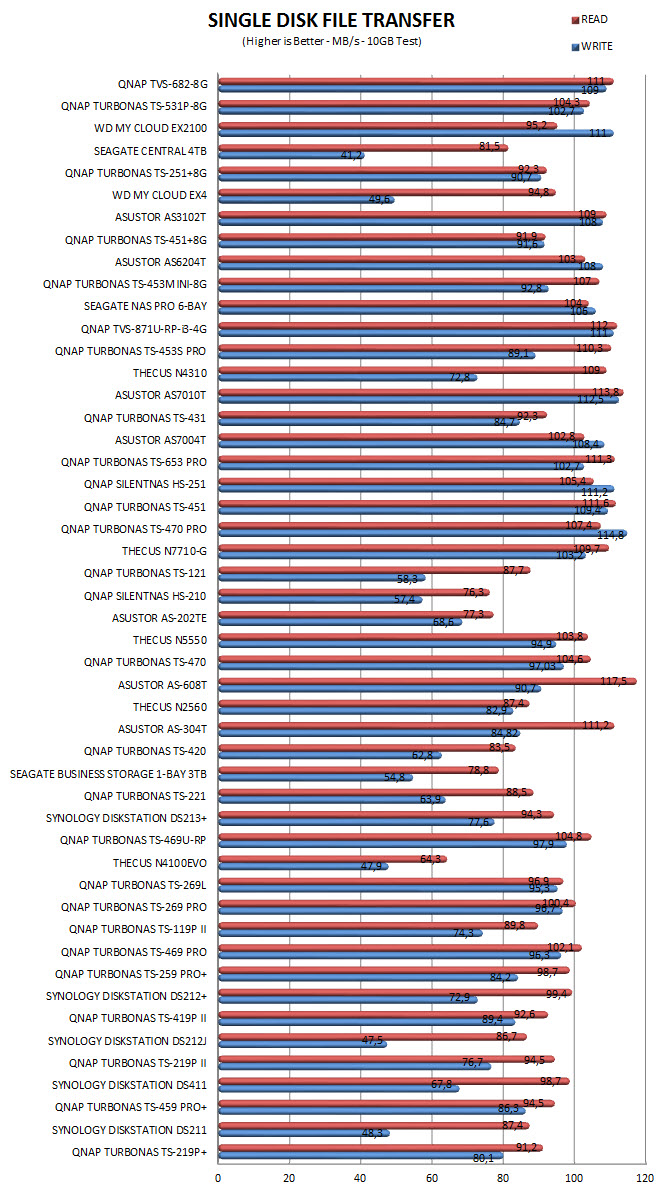 RAID TESTS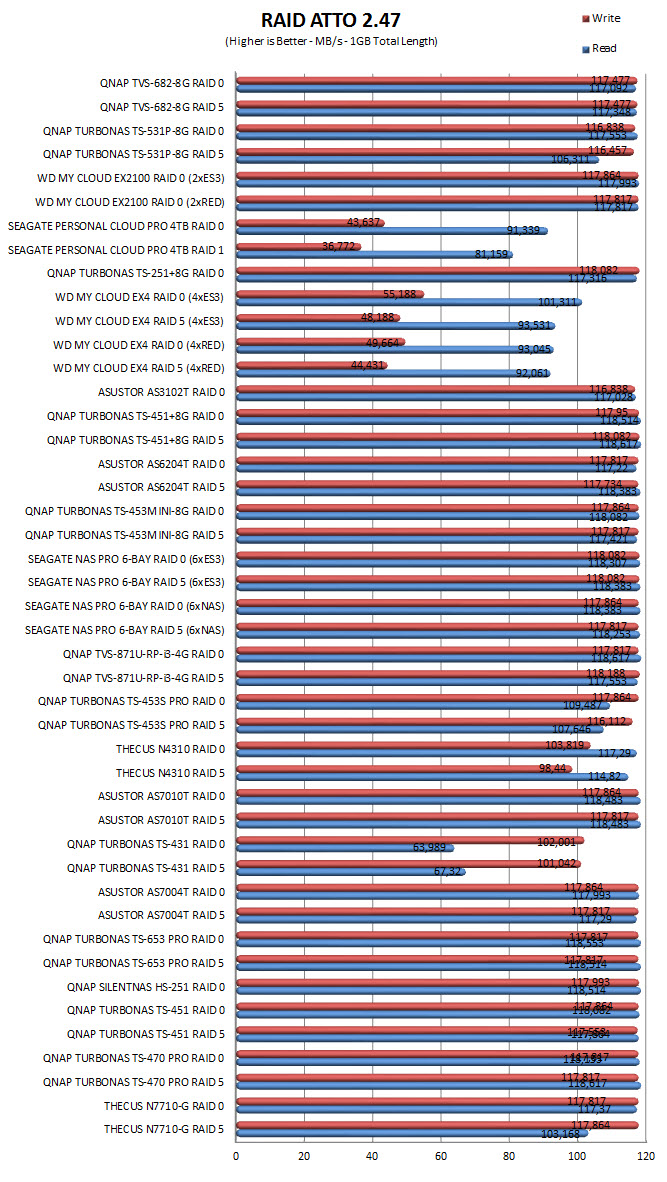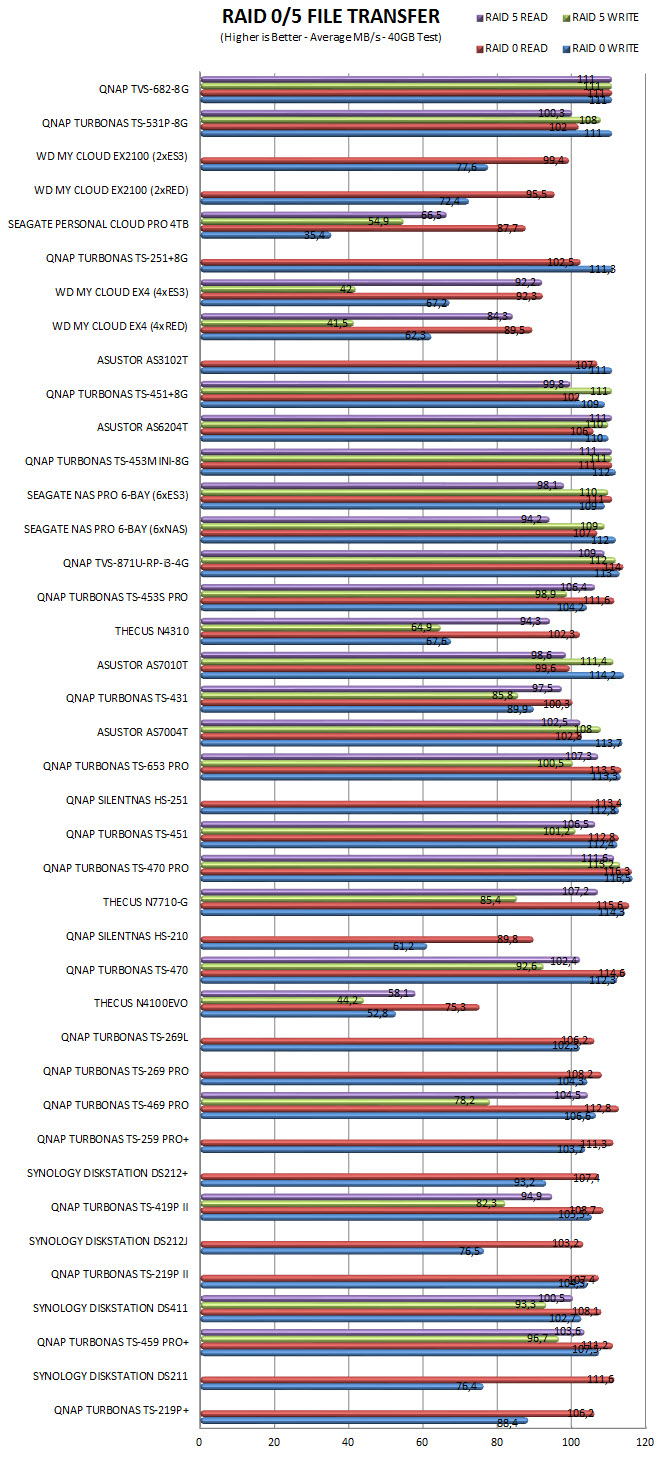 TEST RESULTS – 10GBE RESULTS
SINGLE DISK TESTS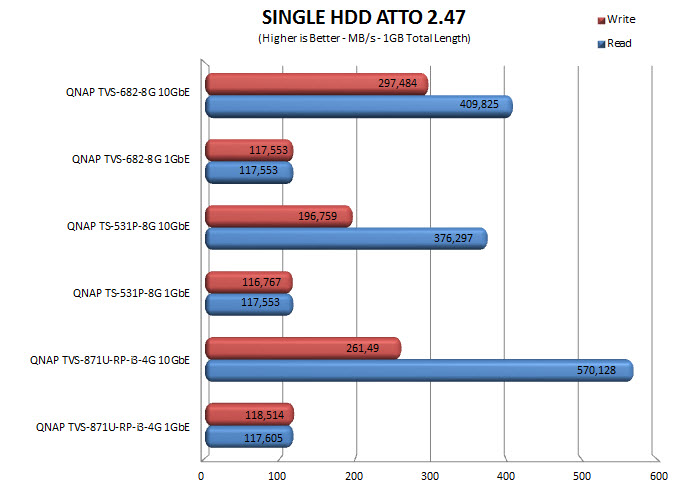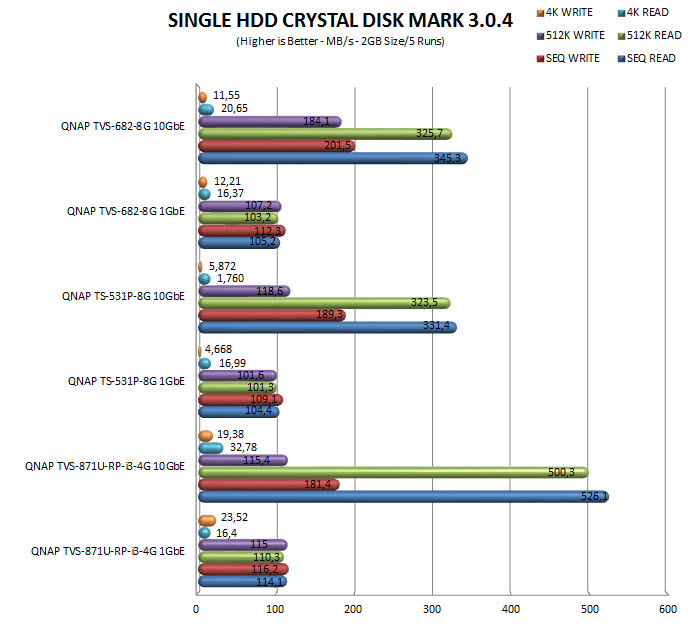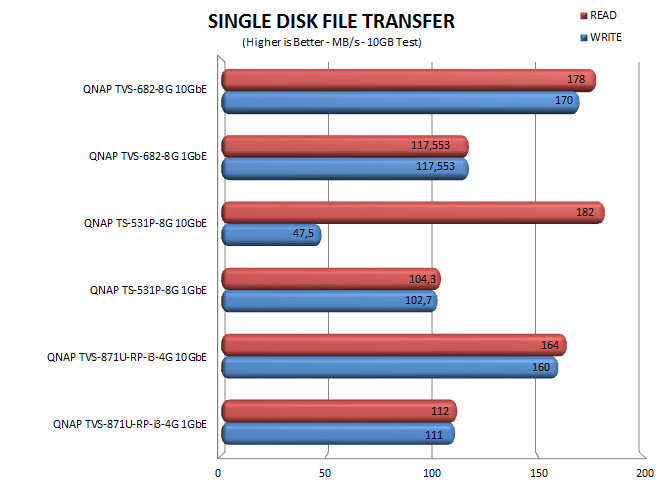 RAID TESTS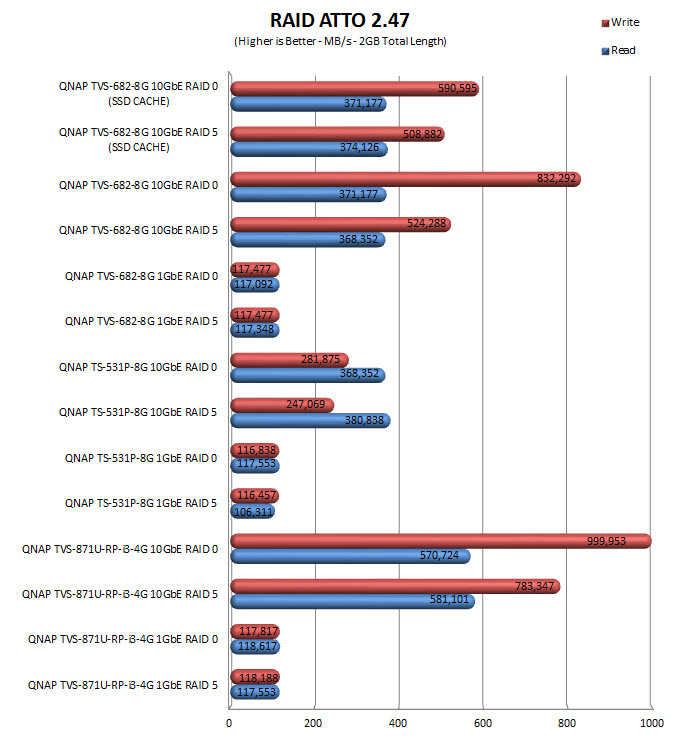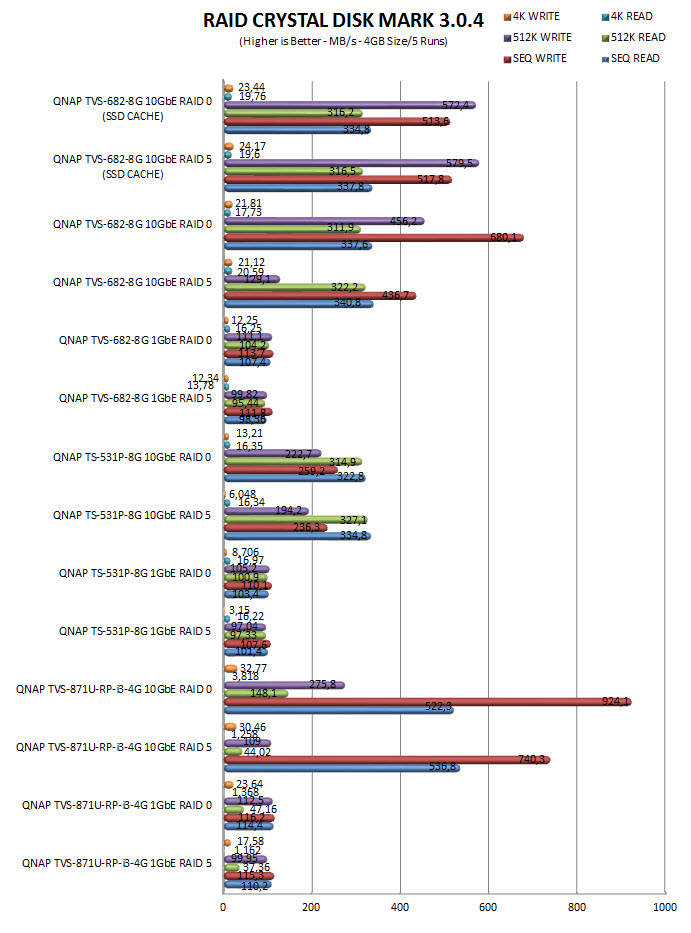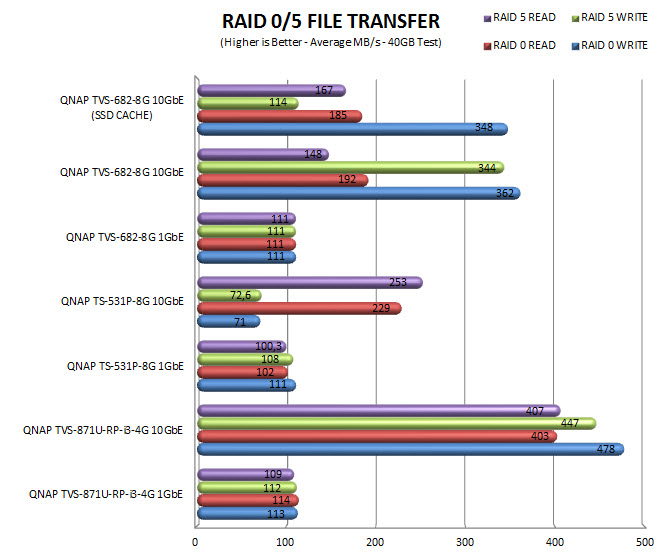 TEST RESULTS – TEMPERATURES / CONSUMPTION / NOISE
TEMPERATURES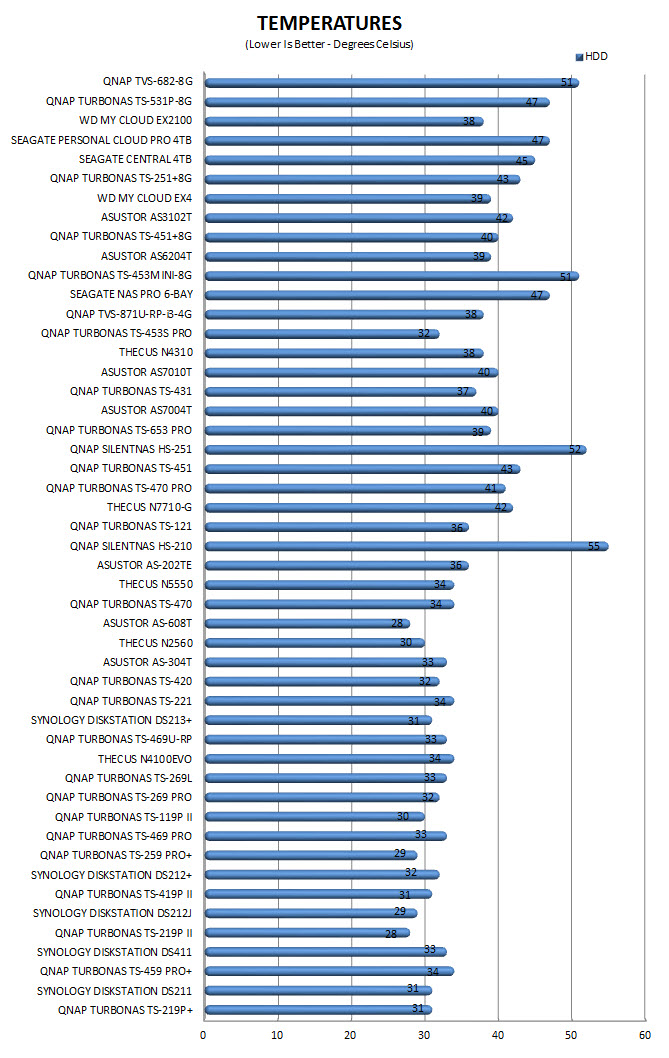 POWER CONSUMPTION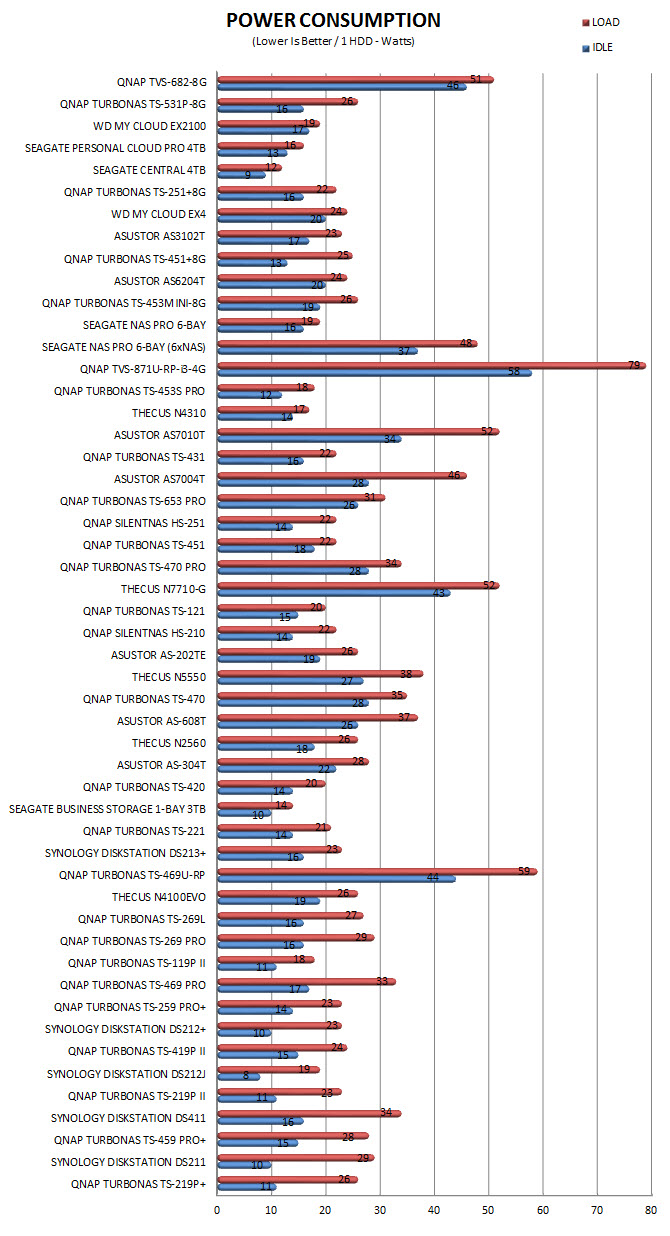 NOISE LEVELS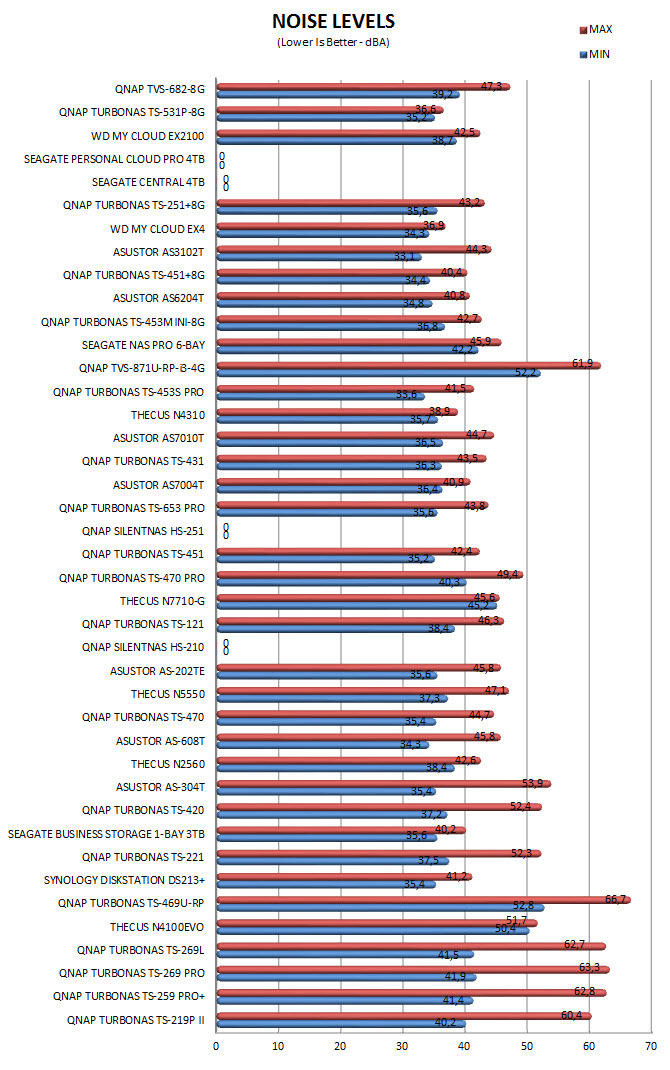 CONCLUSION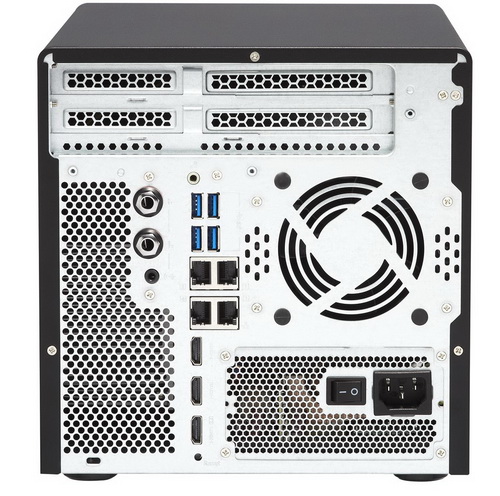 As many of you know (if you've been following our NAS reviews) I've always placed rackmount models over regular ones not only because they feature higher build quality and in some cases redundant power systems (dual PSUs) but also because they almost always offer higher performance numbers compared to similar non-rackmount models (unfortunately since they are targeted towards enterprise and industrial applications rackmount models are quite noisy but we can't have it all). Well I'm happy to say that the TVS-682 changed all that since it's the very first non-rackmount model which I'd actually use in our lab. It's very fast, features two PCIe slots (Gen3x16/4) and two M.2 slots (aside the 6 SATA ones) and is equipped with one of the fastest dual-core CPUs used in NAS servers today (the Core i3-6100) paired with 8GB of DDR4 RAM running at 2133MHz (expandable to 64GB). I also liked the total of 3 HDMI outputs and the addition of the two built-in speakers since they also give audible warnings to the user (for example they notify you when the system has finished booting). The dual section in the interior is also something new and although I think it's not perfect just yet it promises reduced temperatures for all components. After testing the SSD cache feature for roughly 2 weeks we can say that it really works as advertised (increases write performance) but for some reason it's only recorded by Crystal Disk Mark. 4k playback is also impressive but again due to some "possible" problems with KODI v16 (it could also be the uncompressed material we used by SONY) we did encounter some playback/color issues. In terms of available applications and features QNAP still leads the market and since in some areas they offer over twice as many compared to the competition we don't expect that to change any time soon.

Whenever we get a NAS that features a member of the Intel Core i3 family we know even prior to checking prices online that it's going to cost quite a bit and so the TVS-682-I3-8G by QNAP currently retails for USD1299 inside the USA (Amazon.com) and for 1292Euros inside the EU (Amazon.co.uk). Of course the above price tag does not include the cost of a 10G/40G card but the same applies for any other 10G/40G compatible NAS in the market today. Overall however after summing up what features and performance levels the TVS-682 offers we don't really consider it to be that expensive so if you're after one of the best 6-bay NAS money can buy today you can't go wrong with it and that's why it gets our Platinum Award.
PROS

- Build Quality
- Dual Core Intel Core i3-6100
- Top of the Charts Performance
- Available Features
- 8GB DDR4 RAM (Expandable To 64GB)
- 4 Gigabit Ethernet Ports
- 10/40GbE Ready (Via PCIe Card)
- 2 mSATA Ports
- 2 PCIe Slots (Gen3x16/x4)
- 5 USB 3.0 Ports
- 3 HDMI Outputs (1x2.0/2x1.4)
- Dual Speakers (Audible Warnings)
- Dual 6.3mm Jacks (Karaoke Support)
- RAID 0/1/5/6/10/JBOD + Hot Spare/Swap Support
- Six SATA III Bays (6Gb/s)
- QNAP QTS
- Android Apps
CONS

- Power Consumption (For Some)
- Price (For Some)