Details

Published on Friday, 02 June 2017 20:33
INTRODUCTION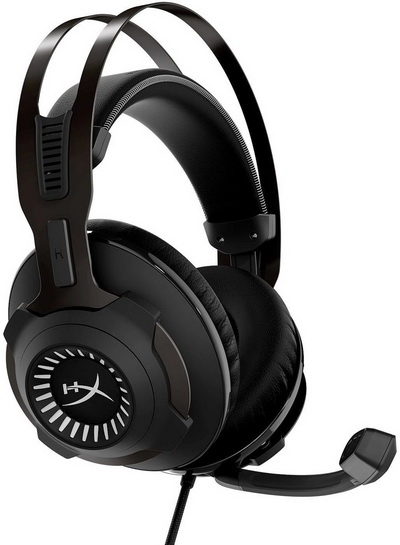 Since we couldn't attend this year's Computex (check our news section for coverage - many interesting products have been unveiled so far) we focused our efforts in testing as many things as we possibly can and it's no surprise really that many of those are gaming peripherals. We're quite lucky actually since in May we received quite a few PC game titles with which to test those gaming peripherals including the new Prey (which is nothing like the 2006 one unfortunately), Endless Space 2 (mods may actually make it one of the best 4X space strategy games to date - custom spaceship frame design is our wish along with some performance optimizations), Vanquish (offers many hours of straight up fun) and Everspace (not a bad space sim but not exactly what we had hoped it would be). One of those gaming peripherals is the newly released CLOUD Revolver S Pro Gaming Headset by our good friends over at HyperX.

HyperX is the high-performance product division of Kingston Technology, the world's largest independent memory manufacturer. Started in 2002, HyperX began with one line of high-performance memory and has grown over the years to encompass multiple product lines of memory modules, solid-state drives, USB Flash drives, headsets and mouse pads. Featuring best-in-class components that have delivered superior performance, quality and aesthetic design for more than a decade, HyperX products are the choice of top-rated gamers, tech enthusiasts and overclockers worldwide. From setting memory world records to achieving the most stringent product certifications, HyperX is committed to delivering reliable products with the highest performance standards. In addition, HyperX is the proud sponsor of over 20 gaming teams globally and the main sponsor of the Intel Extreme Masters and Dreamhack festivals. HyperX products are designed to meet the most rigorous demands of professional gamers to give them the winning edge and help gamers stay on top of their game.

The CLOUD Revolver S is not only the latest addition in the CLOUD family of gaming headsets by HyperX right after the highly acclaimed Revolver gaming headset (due to a server database error that review was never published so do expect it soon) but it's also the very first to feature 7.1 Dolby Surround Sound. Just like the majority of surround headsets in the market today however the CLOUD Revolver S doesn't offer "real" 7.1 surround sound via several small drivers placed inside each earcup but virtual (simulated) thanks to its two 50mm dynamic neodymium drivers (These drivers feature a frequency response of 12Hz-28KHz with 30Ohm impedance and 104dB of sound pressure) and an external USB sound card which can connect to it via a 3.5mm plug. A uni-directional noise-cancelling detachable microphone with a frequency response of 50Hz-18KHz and -40dB sensitivity completes the features of the CLOUD Revolver S by HyperX.
SPECIFICATIONS AND FEATURES

PACKAGING AND CONTENTS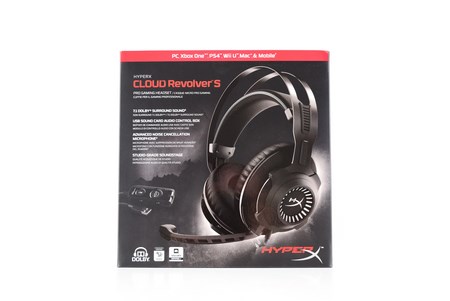 A large product picture is placed at the front of the box under the device compatibility list and next to the main product features.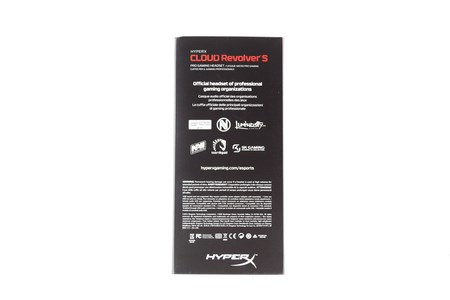 The CLOUD Revolver S is the official headset of 6 eSports teams the logos of which are placed on the left side of the box.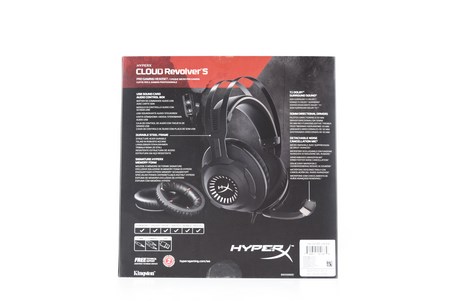 A large product picture is also placed at the rear of the box and used to showcase the product features.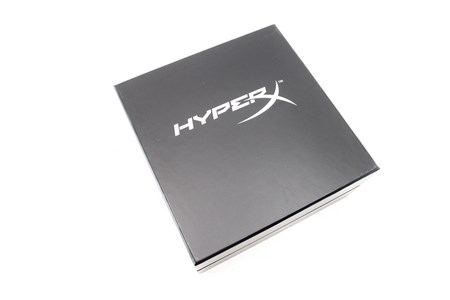 Once you remove the paper cover you will see the HyperX logo.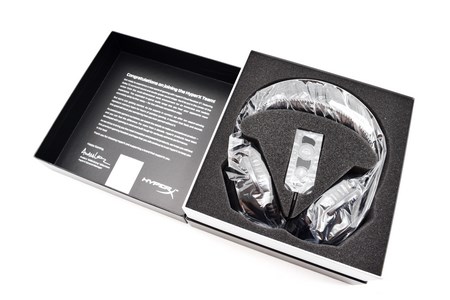 A congratulations note by the general manager of HyperX is placed on the interior of the box and as you can also see the headset is placed inside a piece of black foam.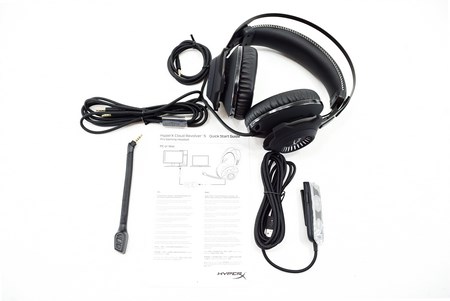 Along with the CLOUD Revolver S and its detachable microphone you will also get an 2 meter long 3.5mm extension cable, USB sound card / control box and a quick start guide.
THE CLOUD REVOLVER S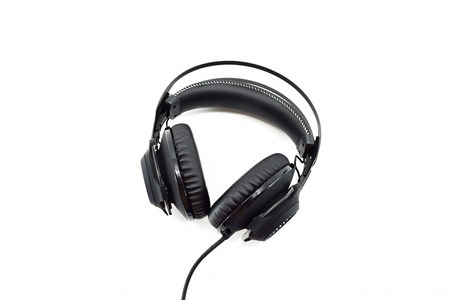 The 360g heavy CLOUD Revolver S features an aluminum frame dressed with hard plastic (matte and glossy) and rubber.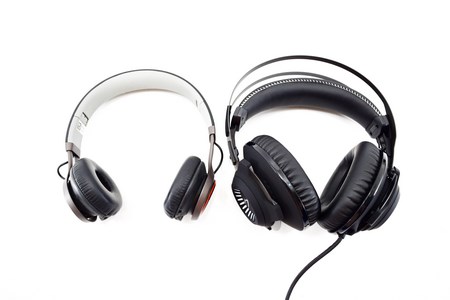 We're not talking about the largest headset in the market but still it's a tad over medium as you can from our comparison with the Jabra REVO Wireless.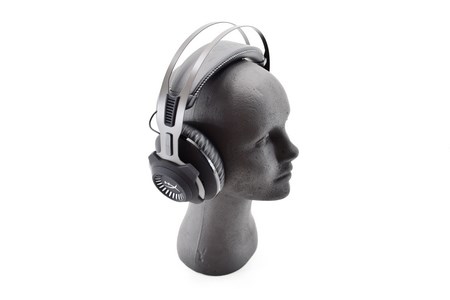 Once again the foam head we're using is not as large as your average head but it allows you to see just how the headset sits on it.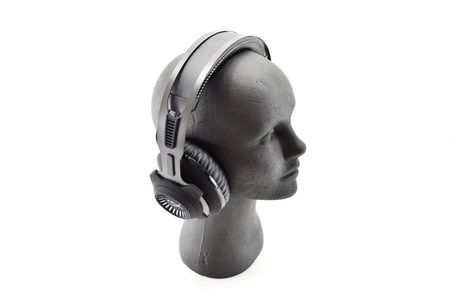 Here we can also see how the suspension construction of the headband works and just how easily it adapts to the size of your head.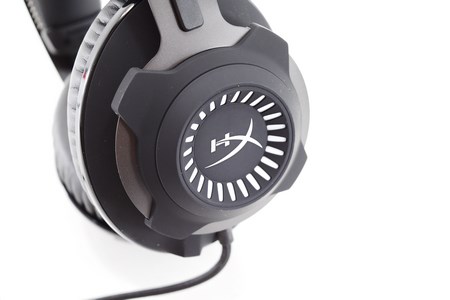 HyperX has placed their logo on a rubber area on the exterior of each earcup (unfortunately there are no LEDs here).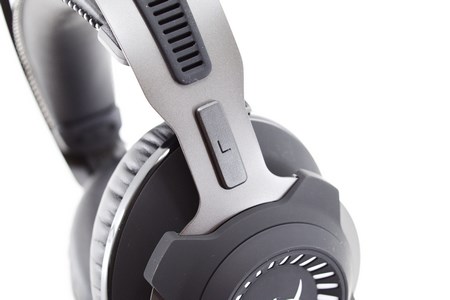 Left and right markings are placed over both earcups as seen above.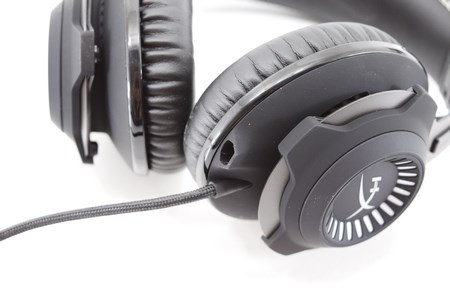 The microphone port is placed on the lower end of the left earcup.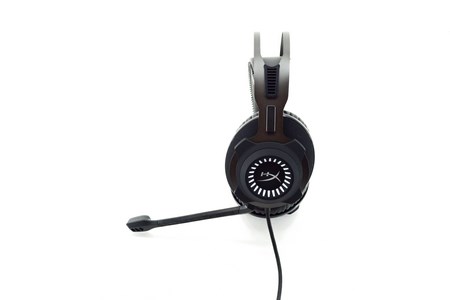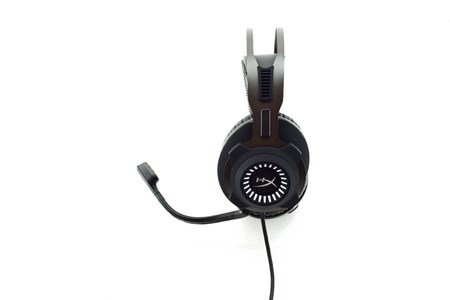 We've seen more flexible microphones than the one used with the CLOUD Revolver S and personally i prefer retractable ones.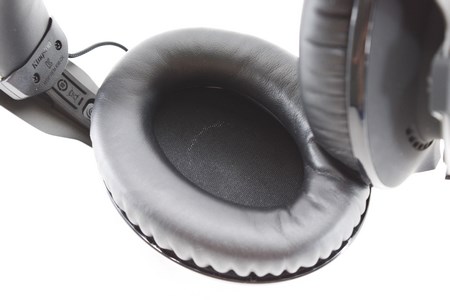 Thanks to their high quality memory foam padding and their size the earpads of the CLOUD Revolver S are extremely comfortable.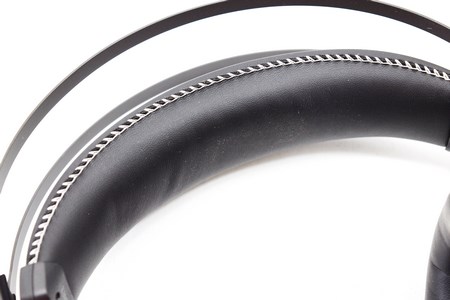 The headpad is not as thick but thanks to the suspension system it too is extremely comfortable.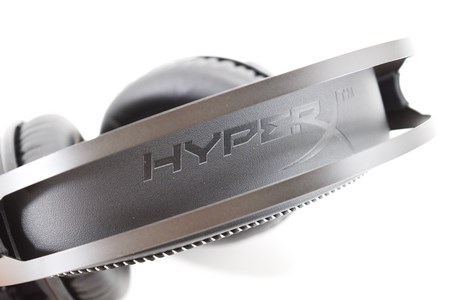 HyperX has placed their logo on the exterior of the headband as seen above.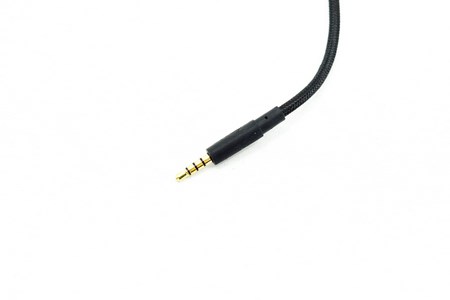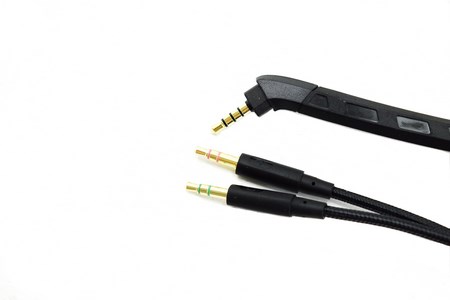 Worth pointing out is that all 3.5mm plugs are gold plated (headset cable, extension cable and microphone).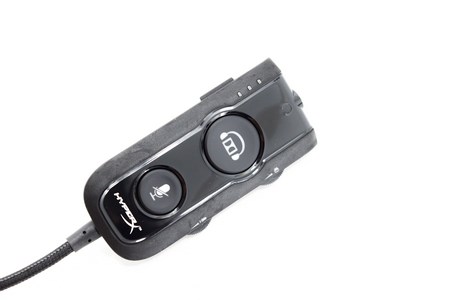 From the external USB sound card (audio box) you can enable/disable Dolby Surround sound, mute/unmute the microphone and choose one of the three available equalizer presets via the three available buttons and you can also increase the volume of both the speakers and the microphone via the two knobs on the right side.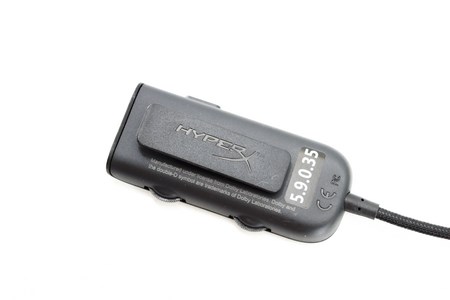 Of course there's a clip at the rear of the audio box which you can use to attach it onto for example your shirt.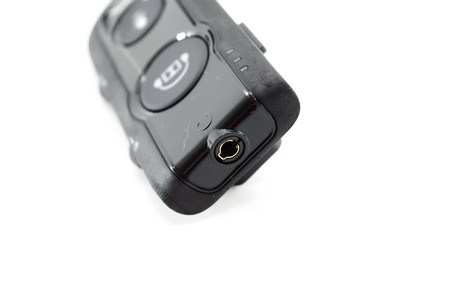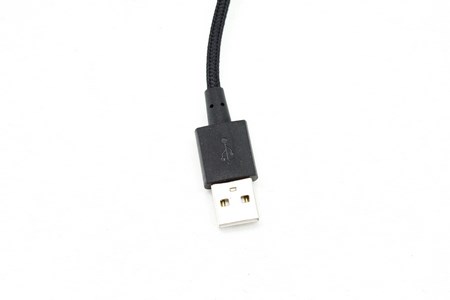 The 3.5mm port is also gold plated but unfortunately the USB plug is not.
CONCLUSION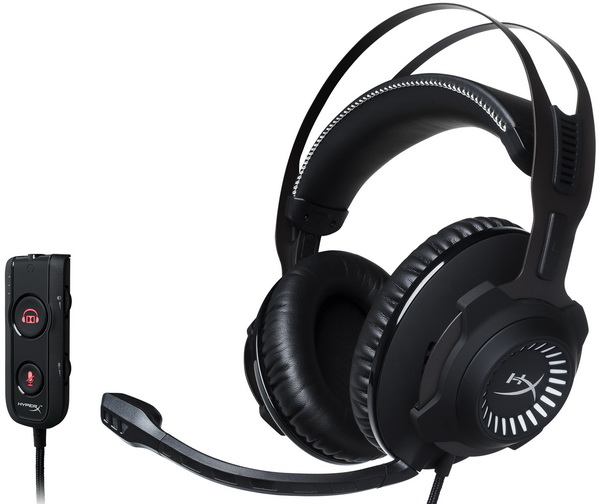 We used the HyperX CLOUD Revolver S Pro Gaming Headset for a total of 10 days not only with PC games (although that was what we used for probably 90% of the time) but also with movies and FLAC audio to see how it would perform when fed different material. First of all we need to point out that the CLOUD Revolver S is one of the most comfortable headsets to ever pass from our lab (if not for its size we'd probably forget we were wearing it even after 2-3 hours of gaming) not only in terms of samples but also headsets which we've bought ourselves. This of course is largely thanks to three obvious things its weight, the suspension mechanism of the headband and the large and thick earpads. Moving to audio quality the CLOUD Revolver S produces very good mids and highs with sufficient bass levels which are actually better if you don't use the USB sound card at all. When using the USB sound card 7.1 surround sound (3D positioning audio) may not offer something we haven't "heard" in the past by other headsets (it's good but nothing to get excited over) but we never did expect anything more. Build quality is also very good, we've seen better a few times in the past but not from a pure gaming headset so HyperX scores quite high in this area too. My sole problem with the CLOUD Revolver S is with its detachable microphone. It's not because it doesn't work well cause it does (and better compared to most) but because of the rubber material since many times in the past I've seen pieces dressed in the same material wear out extremely fast (they also become sticky). Of course this may never happen and i may be over reacting but if i was using the headset on a daily basis I'd make certain that the microphone was stored somewhere away from dust just to be on the safe side.

So how deep do you need to put your hand in your pocket in order to get the new CLOUD Revolver S Pro Gaming Headset by HyperX? With a current price tag set at USD149.99 inside the USA (Amazon.com) and at 153Euros inside the EU (Amazon.co.uk) this unfortunately is the single serious drawback of the CLOUD Revolver S since we all feel that HyperX should had done a slightly better job. You are of course getting one of the best 7.1 virtual surround sound gaming headsets available in the market today but the truth of the matter is that there are equally good models available from other manufacturers and with lower price tags attached to them. Still at the end of the day there are many things that matter to people aside audio quality such as build quality, available features and design and since the HyperX CLOUD Revolver S Pro Gaming Headset doesn't fail in any of them it gets our Golden Award.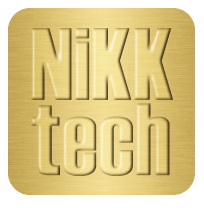 PROS

- Build Quality
- Extremely Comfortable (Extra Large Earpads / Suspension Design)
- Very Good Mids & Highs
- Good Bass Levels
- Detachable Microphone (Easier To Replace)
- 3.5mm & USB Sound Card Use
- 3 Available EQ Presets



CONS

- Price (For Some)
- 7.1 Dolby surround Sound Doesn't "Excite"