Details

Published on Thursday, 14 May 2015 16:09
INTRODUCTION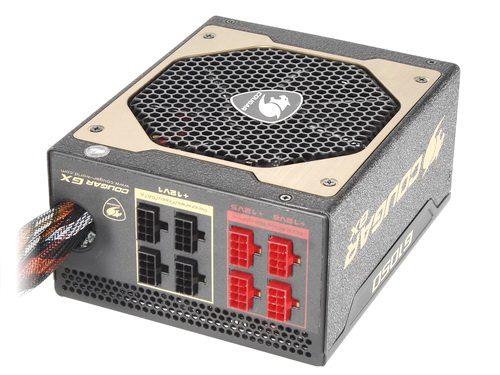 Time and again we've pointed out the reasons behind why people always need to have a good CPU cooler especially during the hot summer months. However a CPU cooler is not the only hardware component of a system that needs to have a certain level of quality in order to keep that system running without issue even during the hottest possible days and leaving out the next obvious hardware component which is no other than the GPU cooler (which in most cases is ok as long as you don't push your card hard) there's just one other that needs special attention, the power supply unit. This of course doesn't necessarily mean that if you use a mainstream model it will burn out during the summer but generally speaking everything from the enclosure, cooling fan and interior components play a huge role in how long the device will keep going and what kind of performance you can expect from it. One of the somewhat "new" players in the market is COUGAR and since so far their products in general have performed on par with those of their much older rivals we decided to take a look at the latest GX-1050 V3 (G1050) 1050W power supply unit.

COUGAR products are designed by COUGAR GERMANY, a professional R&D engineering team and COUGAR is part of the "HEC/COMPUCASE" Group. The unique combination of the world-famous German skills of designing the best products worldwide and HEC/s power and long-time experience to produce the best high quality products created innovative masterpieces in PSU history. The PC upgrading and DIY market is changing rapidly and is growing more and more. Professional user are asking for more than only stable and silent PSU/s, they want efficient and energy saving products without compromises in quality. COUGAR GERMANY created such products! COUGAR GERMANY combines the features of innovation and evolution to create efficient, powerful and unique products like "COUGAR POWER". The purpose of COUGAR GERMANY is the satisfaction of the customer, reaching it by creating most valuable, advanced products. COUGAR – YOUR POWER!

The new GX-1050 V3 is a semi-modular model that features an 80Plus Gold efficiency certification (offers up to 93% power efficiency), two powerful +12v 60A rails delivering roughly 96% of the units power output, flat modular cables for easier cable routing and increased airflow inside the case, ultra-quiet temperature controlled 140mm intake fan, high-quality Japanese capacitors and several electrical protections including OCP (Over current protection), OPP (Over power protection), OVP (Over voltage protection), OTP (Over Temperature Protection), UVP (Under voltage protection) and SCP (Short circuit protection). Still this is the most powerful power supply unit we've received to date by COUGAR so without further delay let's check it out.
SPECIFICATIONS AND FEATURES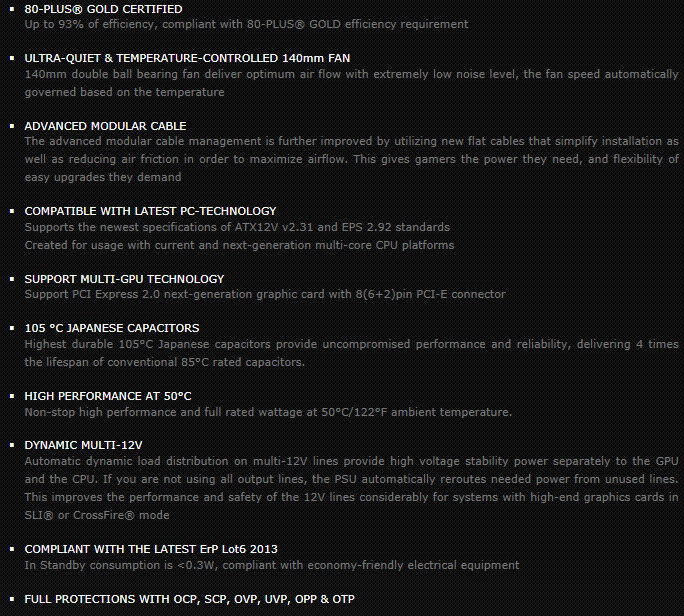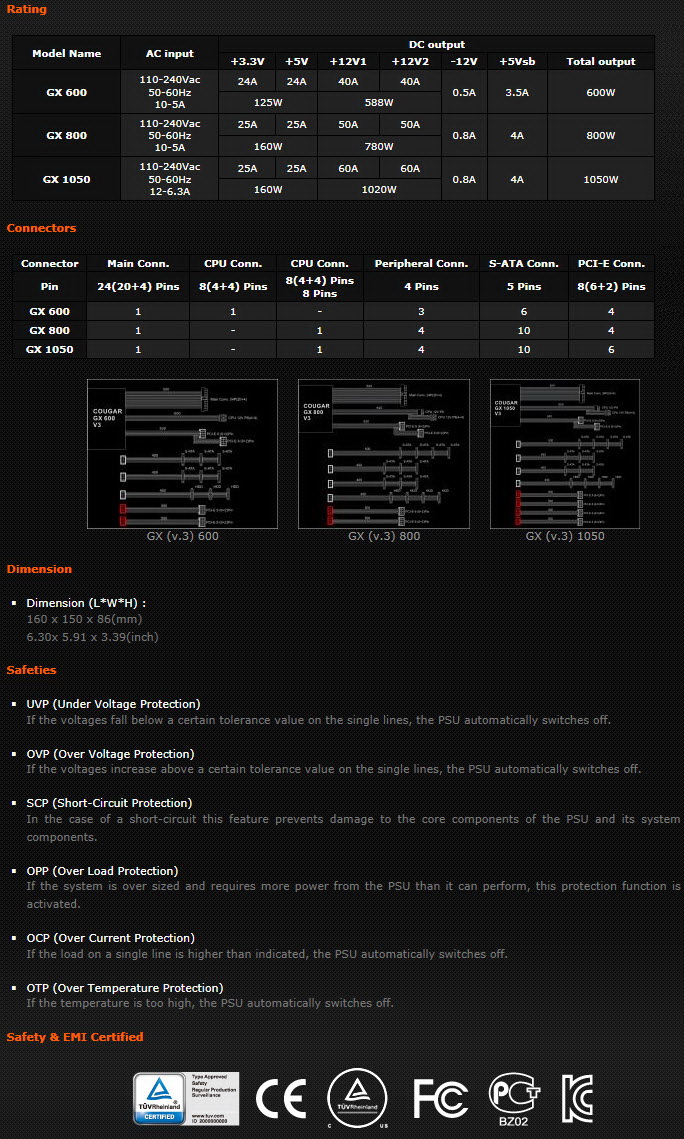 PACKAGING AND CONTENTS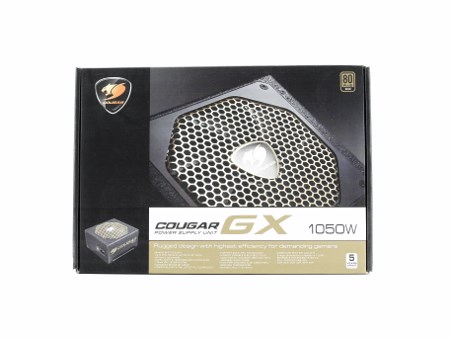 The main product features are printed at the front of the box along with the power output, company logo and a small product image.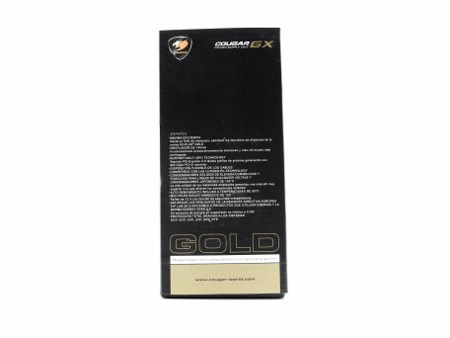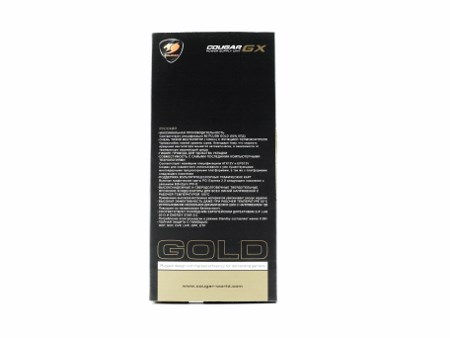 The features and specifications list is also placed on both sides in Russian and Spanish.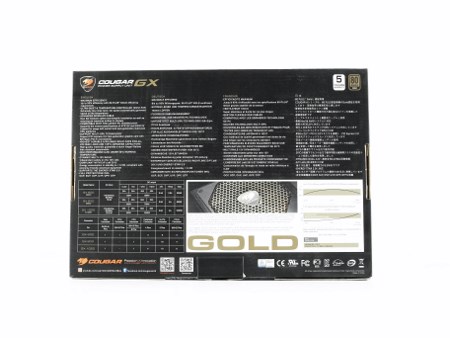 Moving at the rear we see the same features and specifications list in 4 languages right above the electrical table and two charts showcasing the efficiency and noise of the product.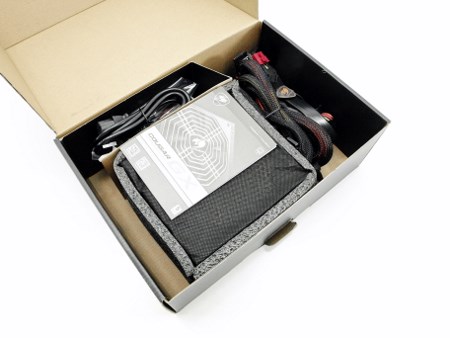 I've seen better packaging in the past but this will do too.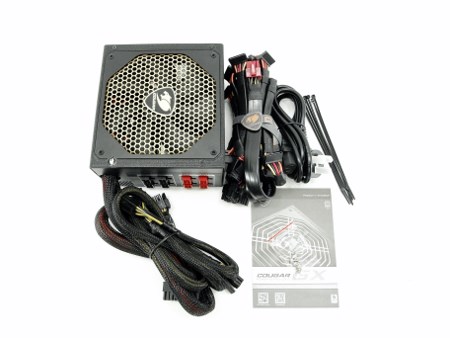 With the GX-1050 V3 you will also get its modular cables (not all are present in this picture) wrapped using a Velcro strap, power cord (UK/EU in our case), 6 cable ties, 4 mounting screws and the user manual.
THE GX-1050 V3 EXTERIOR
The design of the GX-1050 V3 combined with the scratch-resistant paint gives a very good overall result. In terms of size the PSU measures 160mm in length, 150mm in width and 86mm in height.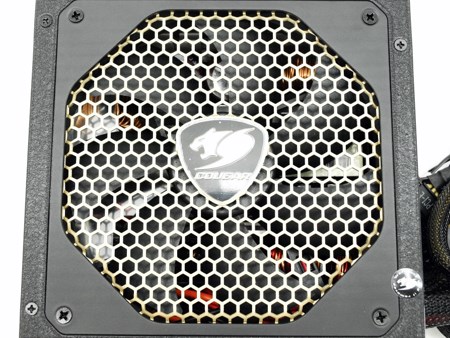 Beneath the gold grille at the top we see a 140mm intake fan.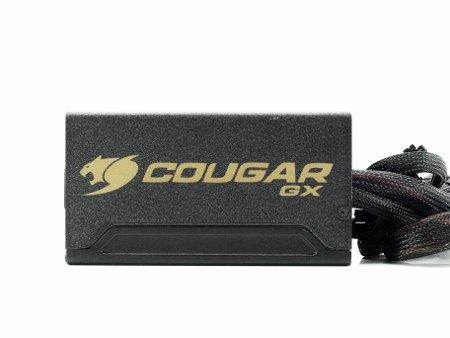 COUGAR has placed its logo and the PSU line name on both sides.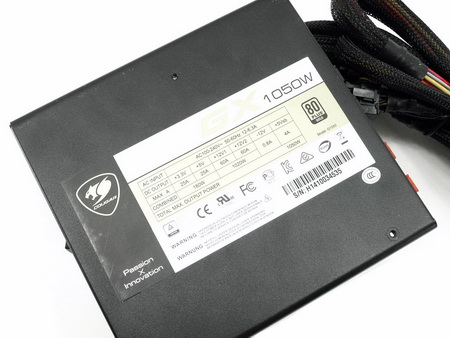 The electrical table is placed on a large sticker located at the base of the GX-1050 V3.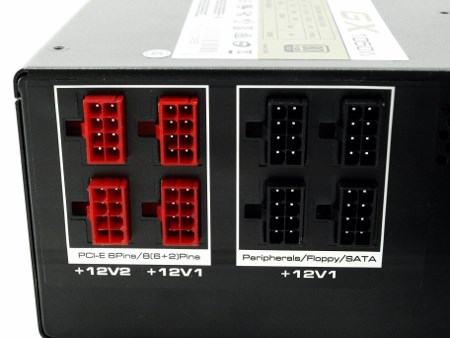 All of the modular ports are color coded and tagged to avoid any possible mistakes.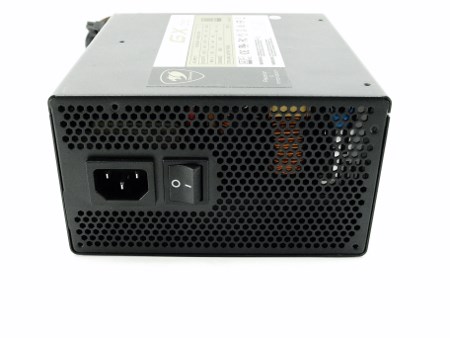 At the rear we see the usual honeycomb perforation, on/off switch and the power port.
THE GX-1050 V3 INTERIOR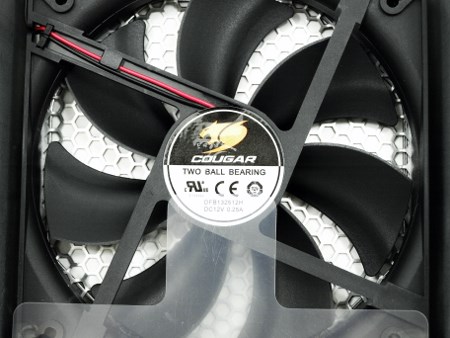 The 140mm fan is probably manufactured by Young Lin Tech Co. Ltd. (judging by the part number) and so it can reach speeds of up to 1700RPM to produce airflow of up to 91.16CFM with just 36dBA of noise.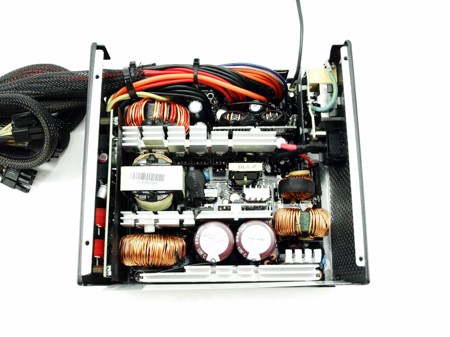 The layout of the interior is quite clean and just like its predecessor this PSU is probably manufactured by HEC.
We are quite glad to see that for the two primary capacitors COUGAR choice one by Nippon Chemi-Con with a 105 degrees Celsius certification.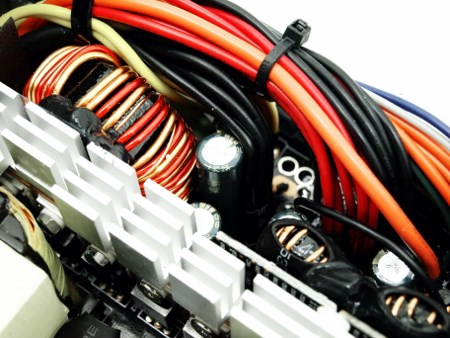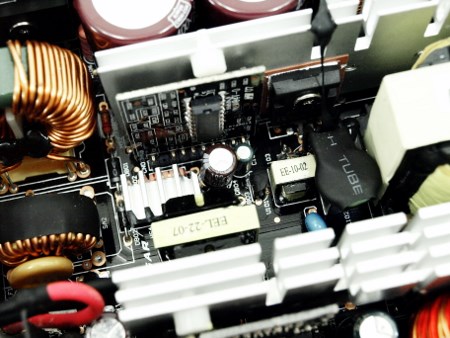 Secondary capacitors are both from Nippon Chemi-Con and Teapo and are also certified for use up to 105 degrees Celsius.
TEST BED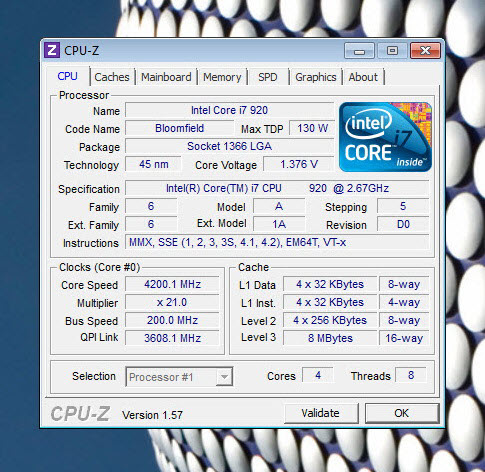 TESTING METHODOLOGY
Using a dedicated measurement instrument such as a Chroma or a SunMoon to test power supply units is without doubt the most ideal and accurate way (not to mention the fastest) to do that currently. However it's certainly not the only way there is and so pretty much anyone can test a power supply unit just by using a computer. Certainly limitations do apply and so you can't really test a 1000W power supply if your system only uses 500W at peak loads and that's why during the past 5 years i have saved certain hardware components for the purpose of building a dedicated PSU test rig. True it may not be as accurate as the above mentioned solutions but it comes really close and is in fact closer to real world usage. So as always we ran several games with maximum graphic options enabled at a resolution of 2560x1600 in order to stress every hardware component and increase the overall power demands of the system. The Passmark BurnIn Test was also used to overstress the components in an effort to provide the most accurate results possible. As a final test we also used the latest OCCT 4.4 software and its dedicated PSU testing suite since it can really bring a power supply to its knees after inside a few minutes.

Rail stability was checked/measured with the CPUID Hardware monitor and a Metex multimeter which also recorded the system load in idle and in load. As always try to remember that the power consumption numbers listed in the graph are the highest (Peak) ones recorded during the entire duration of the tests and not the average ones. Noise levels coming from the fan were recorded using the high precision HD600 ExTech Sound dBA Meter from the rear of the unit and at a range of no more than 5-10cm. Readings under load are recorded the exact moment we manually switch the fans of all graphics cards from full speed to almost zero, that way the fan of the power supply does not have enough time to slow its RPM and so by doing this we get very accurate noise level readings. Needless to say in order to get 100% accurate readings you need to have a noise isolated room for that exact purpose, something which is quite impossible unless you are working inside a real lab (some people use very small noise insulated boxes but due to their size both heat and noise exceed normal levels and so the results can't really be considered to be 100% accurate). Also do take into account that since all noise measurements take place from just 5-10cm away the final noise levels to reach your ears will be considerably less.
TEST RESULTS
RAIL STABILITY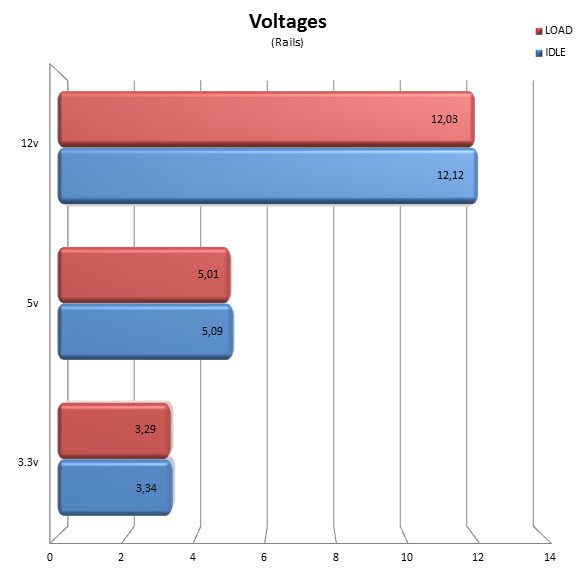 Rail stability may not be the very best we've ever seen but still it's very good.
POWER CONSUMPTION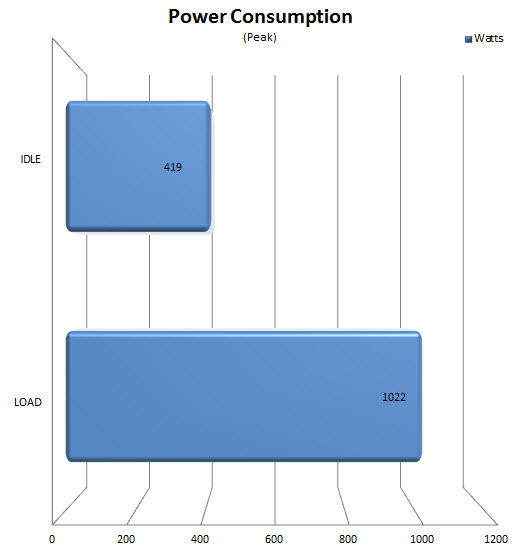 Our test rig came very close to the max output of the unit but fell short just 28W (the results would be the same even at 1050W however).
NOISE LEVELS (SPL)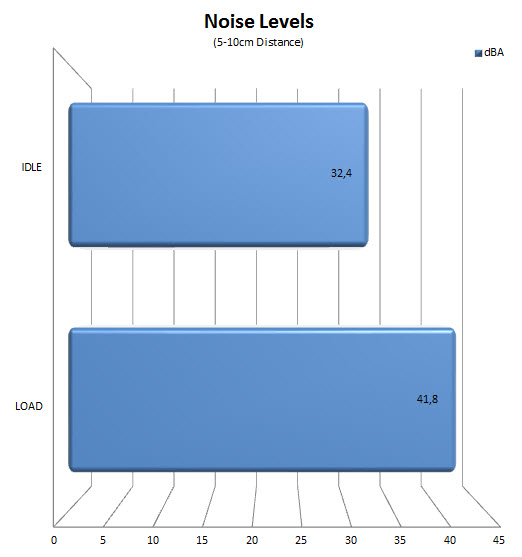 I don't know if the fan will spin faster if you manage to use all the output of the GX-1050 V3 but during testing it never went over 41.8dBA.
CONCLUSION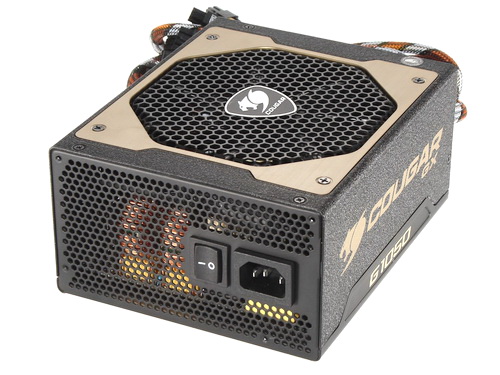 We haven't really had the chance to use/test many power supplies by COUGAR during the past few years but the ones we have tested performed extremely well including the brand new GX-1050 V3. Of course as you're all aware by now it may not offer the highest possible rail stability but aside it being very good it does so at low noise levels (at least lower than most in its league) and comes with a complete set of electrical protections. Now i would prefer a fully-modular design if just so COUGAR could use the same future-proof pitch many manufacturers do (whether or not we will see a change in the 20/24pin power cable anytime soon that remains to be seen) but at least you do get flat modular cables which can indeed make things easier when routing them behind your mainboard tray.

As we speak the COUGAR GX-1050 V3 1050W power supply unit (GX1050V3 as some have listed it as) retails for USD149.99 inside the USA (Amazon.com) and for 144Euros inside the EU (Amazon.de) a price tag which is actually very good for a 1050W 80 Plus Gold certified unit and places it amongst the most affordable 1000-1100W models in the market. True some models offer 80 Plus Platinum and even Titanium certifications and that's why they cost a lot more but leaving out the fact that there are many Gold Certified units out there that cost more (even some Bronze certified ones) we don't think that at least for the majority of users Platinum and Titanium certifications matter much. Overall the new GX-1050 V3 (GX1050V3) delivers a very good bang for your buck and that's why it gets our Golden Award.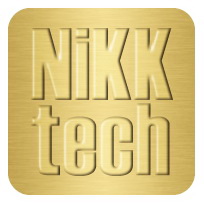 PROS

- Build Quality
- Design
- Very Good Rail Stability
- Noise Levels
- 5 Years Warranty
- 80 Plus Gold Certified
- Electrical Protections (OCP/OPP/OVP/OTP/UVP/SCP)
- Price (For Some)
CONS

- None